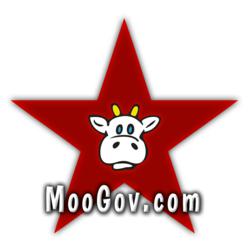 NASHVILLE, Tenn (PRWEB) June 08, 2012
NASHVILLE, Tenn - (June 8, 2012) -- MooGov.com (http://MooGov.com) is announcing the launch of a new online political strategy game that simulates the politics and processes of the United States government. Players can submit legislation; debate local, state, and national issues in the discussion forums; support and oppose legislation created by other players; and campaign for the office of mayor, governor, or president.
"The initial idea for MooGov.com came from my observation of people's reluctance to engage in political conversations on social media sites for fear of being chastised for their beliefs," said Jason Bailey, President and CEO of MooGov.com. "I wanted to create a site where people can openly discuss and debate political topics and engage in a strategic game of politics. My thoughts were, if you think you can do better than the officials in DC, then prove it."
The game of MooGov.com includes both strategy and social elements and is accommodating to a variety of player styles from spectator; to occasional voters; to aggressive players who run for office, submit legislation and participate regularly in the forums. Players can browse the site, but in order to submit legislation or post comments in the forums, they must create a MooGov.com account. The player can also choose a "cowvatar" (avatar) that represents them in the game.
Players can also earn MooGov dollars by gathering support votes and maintaining a high approval rating. These MooGov dollars can be spent to promote political stature; run for the office of mayor, governor or president; purchase banner ads; and undermine opponents. Future plans for MooGov dollars include purchasing personalized items for player's "cowvatars" and real-world branded merchandise.
"Timing is everything," said Bailey. "It was so important for us to launch a beta version of MooGov.com well before the 2012 presidential election gets into full-swing so people have a place to sound off on the topics that are important to them in this upcoming election."
Future versions of MooGov.com include private and interest group editions, geographic editions, and a mobile application. "This beta version is just the tip of the iceberg for us," said Gary Voland, Vice President of MooGov.com. "We feel the potential for MooGov is limitless and we are working tirelessly on updates that will enhance the player's game experience."
About MooGov.com. MooGov.com is the brainchild of veteran developer Jason Bailey and his wife Tracy. Gary Voland joined the team as the head of social media and online marketing in 2011.
For more information about MooGov.com, visit http://MooGov.com.
Media Contact: Tracy Bailey
Tel. 615-482-6416
Email: tracyleggbailey@gmail.com
###