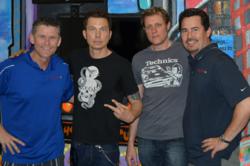 New music was no longer happening at Radio stations and now our company, Retail Radio, gives bands like Oleander the opportunity to finally have a vehicle to showcase their new music without the old school politics, If it's good, it gets played
Sacramento, California (PRWEB) June 06, 2012
Lead Singer Thomas Flowers and Rich Mouser of Oleander stopped by The Retail Radio World Headquarters to drop off their new single "Something Beautiful" hot off the press from their new upcoming album of the same named "Something Beautiful."
The Album is set to release in September but you can hear the song in thousands of Retail Radio music provided stores nationwide. "The song was added immediately into heavy rotation on our Retail Radio Rock stations, and is doing extremely well!" said Steve Zanardi, program manager for Retail Radio.
Bill Louie, the Director of Sales for Retail Radio, left behind a 20-year radio career for connections like the one Retail Radio has with Oleander. "New music was no longer happening at Radio stations and now our company, Retail Radio, gives bands like Oleander the opportunity to finally have a vehicle to showcase their new music without the old school politics, If it's good, it gets played", Mr. Louie continued "These relationships enables Retail Radio to continue our multi-sensory brand engagements we have become known for."
Retail Radio has been nominated for several publications for being one of the fastest growing companies in the nation. By developing these relationships, musicians such as Oleander will notice increased exposure in a non-traditional environment.
About Retail Radio:
Retail Radio is a provider of multi-sensor branding services that are designed to entertain and educate which creates revenue-generating opportunities. Retail Radio's offerings include licensed music, on-hold music, video services, queuing and production services. Retail Radio services are active throughout the United States and Canada in thousands of locations. Retail Radio's clients include Fortune 500 companies as well as small businesses that want the most for their customers' shopping experience. For more information please visit http://www.retailradio.biz or call 1-888-807-6863.