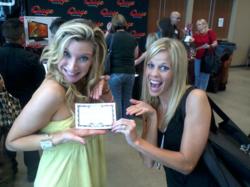 PartyPOP.com features over 2 million highly accomplished and professional companies in the event planning industry.
(PRWEB) June 06, 2012
PartyPOP.com recently announced free wedding invitations and an RSVP website for any engaged couple in the United States, Canada and the United Kingdom. The company has re-purposed their 2012 marketing budget in hopes of building brand awareness and loyalty. According to reports from within the Southern California based company, it's working.
PartyPOP.com features over 2 million highly accomplished and professional companies in the event planning industry including Joyful Beginnings, Divine Elegance Wedding Chapel, Pen the Moment Calligraphy, and The Doorstep Day Spa.
Joyful Beginnings founder, Melissa Craig, is a full-time licensed wedding officiant and ordained wedding minister serving those in Corpus Christi, Texas. Craig happily performs customized wedding ceremonies rich in life, love and laughter at the location of the couple's choice. Whether barefoot on the beach, at a resort, or in your backyard Craig is personable, experienced and easy to work with. Craig is passionate about what she does and has excellent references to prove it. She ensures that the couple's ceremonial vows speak of their mutual love, loyalty, respect, commitment, and personal values and or spirituality that they both share.
Craig is honored to be part of various types of weddings including non-denominational, civil, spiritual, multi-faith, secular, and non-secular wedding ceremonies. As a minister, Melissa Craig has flexible hours and is available weekdays, evenings, and weekends. She encourages couples to call anytime, welcoming last minute weddings and elopements. Whether couples choose a traditional or a contemporary ceremonial exchange of vows, Craig can help make the ceremony a truly unique, personalized experience. More information can be found online at http://www.partypop.com/v/4347943
Located in Tacoma Washington, the Divine Elegance Wedding Chapel offers beauty, romance and charm that speaks for itself. Built in the early 1900's and located just two blocks from the beautiful Pt. Defiance Park, the Divine Elegance Wedding Chapel provides an intimate setting for a wedding or special event. The chapel's gothic style arched windows, elegant chandeliers and a glowing fireplace gives it the classic charm of yesteryear.
In addition, the chapel has an attached bridal room for the bride and her bridal party to get ready in a private setting. Conveniently enough, there is also a small kitchen available at the chapel perfect for hosting weddings and parties. Outside catering is always welcome and alcohol is allowed with a banquet permit. The chapel comes pre-decorated, however, clients are welcome to add to or make changes to create the wedding of their dreams! Most of the cleanup is taken care of by their staff so that those in attendance can enjoy their special day.
Divine Elegance Wedding Chapel offers several wedding packages to fit any budget. For a larger facility, they also help book for the Tacoma Scottish Rite, a beautiful ball room perfect for a ceremony and reception. More information can be found online at http://www.partypop.com/v/4340544
Pen the Moment Calligraphy is a great way to add "flair" to birthday party, anniversary, wedding and other special occasion invitations and announcements. Located in East Brunswick, New Jersey, Pen the Moment Calligraphy offers a variety of fonts to hand letter envelopes for wedding invitations, engagement announcements, anniversary parties, letter inscriptions, fill in certificates, and much more. They take great pride in their services and believe there is no greater joy than seeing the look on a brides face when she sees her table cards, place cards and invitations written out in the style and color she picked to compliment her wedding decor. More information can be found online at http://www.partypop.com/v/4380796
The Doorstep Day Spa is owned and operated by veteran massage therapist Regina Fernandez. Doorstep was the first mobile day spa in Los Angeles, California . Fernandez was a part of a visionary team that inspired the nationwide trend of bringing the luxury of a day spa to the comfort of one's own home. The Doorstep Day Spa is comprised of professional practitioners that are hand-picked by Fernandez herself. Photos and testimonies are provided for clients, to get to know the practitioners in advance. The Doorstep Day Spa has been spotlighted in the LA Times, Long Beach Press Telegram, MASSAGE Magazine, Massage Therapy Journal, San Pedro magazine and more. More information can be found online at http://www.partypop.com/v/4097201
About PartyPOP.com is the largest party, wedding and event planning online network:
Before the Internet era, the professionals at PartyPOP.com were successful hands-on party planners and special event producers. For more than a decade PartyPOP has translated 30 years of party planning experience onto the Internet. Millions of vendors are listed on the network consisting of 60+ websites and tens of millions of customers have used the network to plan their parties, weddings and events. PartyPOP.com also provides party and event related tips, themes and ideas, as well as a free full wedding planning software called Seating Arrangement.
About Free Printed Invitations by PartyPOP.com:
PartyPOP provides every bride and groom across the USA, Canada and the U.K. with free beautifully designed wedding invitations, printed on 80lbs card stock paper with matching envelopes and wedding website. Even door to door shipping is included at no cost. There are no hidden fees, no obligations to buy and no strings attached!