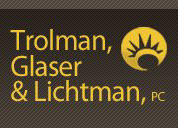 New York, NY (PRWEB) June 18, 2012
On May 1 and 8, New York medical malpractice attorney Jeffrey Lichtman of Trolman, Glaser & Lichtman joined the Honorable Douglas E. McKeon, Administrative Judge, Bronx County, as a member of the faculty teaching "Negotiating and Mediation: The Art Of Settling," hosted by The New York State Trial Lawyers Institute (NYSTLI). Also serving as faculty and panel members for the educational seminar were Alan L. Fuchsberg of The Jacob Fuchsberg Law Firm, Lorenzo T. Ameno of the NYU Langione Medical Center, Ronnie Bernon Gallina of JAMS and Andrew S. Kaufman of Kafuman Borgeest & Ryan LLP, among others.
The purpose of the two day seminar was to educate other attorneys on efficient and effective negotiation and settlement tactics for medical malpractice cases in New York courts.
Recognizing that clients are not often best-served by long drawn out litigation and tend to benefit from bringing a medical malpractice claim to a timely conclusion, a new model focusing on judge-directed negotiations for medical malpractice cases is being piloted over the next three years in the Bronx and Manhattan.
Modeled after Judge McKeon's process for handling med mal cases in his Bronx courtroom, the program is called the Medical Liability Reform and Patient Safety Model and is made possible, in part, through a $3 million, three-year federal grant. Five private hospitals in the Bronx and Manhattan and Brooklyn, have agreed to participate in the program – New York Presbyterian Hospital, Montefiore Medical Center, Beth Israel Hospital, The Mount Sinai Hospital and Maimonides Medical Center.
For years, Judge McKeon has been getting involved early in medical malpractice cases filed in his court, bringing the parties together early to discuss the facts and move toward a negotiated settlement. And, for years, Attorney Jeff Lichtman has been helping clients seriously injured and family members of those who were fatally injured by a medical mistake seek justice in New York courts. Both shared their experience at the recent NYSTLI event and support focusing on timely resolutions of malpractice claims.
Judge-directed mediation is voluntary for all parties, and according to Judge McKeon, "Nobody [has been] short-changed."
The program is not intended to restrict an injured person or his or her family's access to the court to seek justice for a medical mistake, but to help medical malpractice victims bring their cases to a close sooner, minimizing the expense of litigation with fair and adequate compensation.
To learn more about Jeffrey Lichtman and the medical malpractice attorneys of Trolman, Glaser & Lichtman, visit the firm's website at http://www.tgllaw.com or call 888-253-1221.