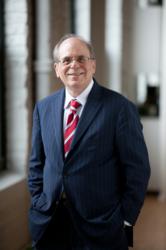 The study abroad field has seen the amazing impact Dr. Michael Steinberg's dedication and commitment have had on thousands of students for more than 35 years.
(PRWEB) June 07, 2012
Dr. Michael Steinberg, Executive Vice President of Academic Programs for IES Abroad, has received the prestigious Education Abroad Leadership Award from NAFSA: Association of International Educators, recognizing Dr. Steinberg's more than 35 years of groundbreaking contributions to the education of students studying abroad.
Presented at the NAFSA annual conference in Houston on May 30, the award recognizes one education abroad professional each year for dedicated and distinguished service to the field of study abroad. Recipients "must have an exemplary record of publication, teaching, advising, advocacy, leadership, new program development, or general service to the field that has made and will make a lasting contribution to education abroad."
Since joining Chicago-based IES Abroad in 1976, Dr. Steinberg has assembled a record of achievement unmatched in the study abroad field. He has played a leadership role in virtually all of the field's major innovations—as well as IES Abroad's innovations—including:

The establishment of new IES Abroad Centers and academic programs in more than 35 cities worldwide since 1976
Development of the original IES Abroad MAP and the recently published, groundbreaking IES Abroad MAP for Language and Intercultural Communication, both of which are considered benchmarks of performance and excellence in the study abroad field
Chair of the Standards Committee of the Forum on Education Abroad
Service on the Advisory Council of the Forum on Education Abroad
Contributor to the NAFSA Guide to Education Abroad
Founding member of the Inter-Associational Task Force on Health and Safety, which developed the national guidelines for health and safety in study abroad
Contributor to the Forum on Education Abroad's Code of Ethics
Frequent panelist and speaker at study abroad conferences worldwide including NAFSA; the Stetson Law Conference; the National Society for Experiential Education; HACU (Hispanic Association of Colleges and Universities); the Forum on Education Abroad; and the Modern Language Association
Author of numerous groundbreaking professional articles and studies
Dr. Mary Dwyer, president and CEO of IES Abroad, noted that study abroad professionals around the world have been inspired by Steinberg's many contributions to language-learning systems and academic standards in our field. "The study abroad field has seen the amazing impact Dr. Michael Steinberg's dedication and commitment have had on thousands of students for more than 35 years. The recognition he is receiving through NAFSA's Education Abroad Leadership Award is richly deserved and reflects the study abroad field's appreciation for all Michael has done, and continues to do, for thousands of students each and every day."
About IES Abroad
IES Abroad, which celebrates its 62nd anniversary in 2012, is a global, not-for-profit academic consortium of more than 200 top-tier American colleges and universities. IES Abroad offers 100 programs at 35 international locations in Africa, Asia, Australia, Europe, New Zealand and South America. More than 5,700 students enroll in IES Abroad programs each year. For more information, please visit http://www.IESAbroad.org.
IES Abroad has received the prestigious Quality Improvement Program (QUIP) designation from The Forum on Education Abroad for meeting the highest standards in the nation for study abroad programming and evaluation.