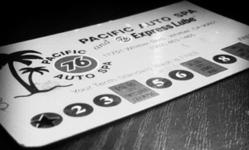 Our free Customer Appreciation Software can eliminate the printing costs of printed punch cards for a business owner while providing them the ability to easily (and affordably) capture customers cell phone numbers
Woodland Hills, Ca (PRWEB) June 19, 2012
Armando Gil has officially put all loyalty punch card printers on notice. Handing out printed loyalty punch cards to your customers will soon be as outdated as typewriters, cassettes and CDs.
Armando Gil commented, "Global Merchant Innovations, LLC's Customer Appreciation Software has done the loyalty program industry one better. Where most companies in this market space still go through the hassle of actually printing physical punch cards that can be lost and forgotten, Customer Appreciation Software can eliminate those printing costs for a business owner and provide them with the ability to easily (and more importantly, cheaply) capture customers' cell phone numbers. The most important thing for business owners to keep in mind is that they can do all of this while still rewarding customers for having visited their business location more than once. "
Armando Gil added, "As a merchant services company, Global Merchant Innovations, LLC is always looking to give back to the men and women who are in business for themselves. Given the economic climate of our country, the founding partners have decided to do something radical. They want to give business owners free access to their Customer Appreciation Software, meaning a business owner simply needs to cover the cost of sending a text message at .01 cent per message and decide on a local phone number for themselves for $1 per month per phone number. There are no minimums on messages or pricey upfront costs to get started. Global Merchant Innovations has no involvement in the billing, delivery or selection of phone numbers. Instead, they have decided to utilize a well known cloud telecommunications provider, Twilio, Inc., that seamlessly integrates with the Customer Appreciation Software. If a business owner isn't using the software to capture customer cell phone numbers, there is no expense other than the $1 per month for the local number they have reserved for themselves. Business owners should keep in mind that there are no long term commitments or steep upfront costs; they only pay for what they use. Global Merchant Innovations staff provides business owners over-the-shoulder instructions on how to get setup in less than 5 minutes. Customer Appreciation Software has made it cheap, easy and fast for business owners to start leveraging mobile marketing to benefit their bottom line."
It's estimated that 86% of all Americans own a cell phone. It's amazing that 97% of all text messages are opened. What's even better is that 83% of all text messages are opened within an hour. When one considers that a jaw dropping 6.9 trillion text messages in 2010, it is hard to deny that text messages are the future of marketing. Text message traffic is expected to break 8 trillion in 2011, according to Portio Research (January, 2011).
To register for a free account and over-the-shoulder training video on how to setup the Customer Appreciation Program, business owners can go to http://www.globalmerchantinnovations.com/cas for immediate access, free training and minimal operating costs.
Donna Tregaro can be contacted at (213) 867-7796 for media inquiries or to arrange for an interview or an expert quote.
Armando Gil has over 33 years of experience in the financial services industry. Global Merchant Innovations, LLC was established with business owners in mind. An elite team of brilliant executive leaders from a highly recognized financial services marketing company came together and decided behind a closed door meeting that the vast majority of businesses today are getting ripped off!
The result was an international company designed to help businesses operate at peak efficiency by providing them with cutting edge, simple to use tools to expand productivity better than any Harvard Business School Graduate ever could.
The combined leadership experience, strengths and relationships of the executive team over the last 16 years has accumulated a wealth of insider information; businesses will be supercharged to humiliate the competition. More information can be found at http://www.globalmerchantinnovations.com/.