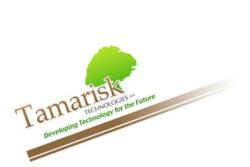 Las Vegas, NV (PRWEB) June 07, 2012
Tamarisk Technologies, LLC has filed an application for exemption of Phase I and 2 oral insulin clinical trials and has asked the FDA to allow them to enter Phase 3 trials with their oral formulation of insulin. Christopher LaPoma, VP of Operations and Business Relations sounded optimistic about the requested exemptions while noting extensive pre-existing pharmacological data within the company's possession.
Tamarisk Technologies, LLC who revealed the end of a decade of carefully shrouded research with their successful oral administration of insulin, has made headlines again today with their announcement of their intent to complete phase 3 clinical trials by the end of 2012.
"We made history last month providing the world with the first clinically relevant oral insulin and with a philosophy which represents a new era in drug delivery. This month and each hereafter we will continue to shake the very foundation of the biopharma industry with the release of one innovation after another," said Daniel DeBrouse, founder and CEO of Tamarisk Technologies, LLC. DeBrouse went on to say, "Our wisdom is profound and our resolve absolute, if necessary we are fully prepared to complete clinical trials on our own."
The biotech innovator made Tamarisk's intention to commercialize oral insulin clear if an acceptable agreement is not reached with big pharma in their current negotiations. When asked about Tamarisk's financial ability to make good on its promise DeBrouse chuckled and said, "let me assure you there is no lack of funding and our shareholders are unified in their resolve to see oral insulin available in the marketplace mid 2013." Recently Dr. DeBrouse offered up 2 of his shares, or 2% ownership of Tamarisk profits, up for sale. This rising biotech giant has certainly slung a rock at Goliath and is certainly the one to watch. Two shares are still being offered over the company's website. For more information about oral insulin Tamarisk Technologies and its investment opportunities visit http://www.tamarisktechnologies.com or contact Christopher LaPoma, email: clapoma(at)tamarisktech(dot)com Phone: 1- (405) 279-1250.