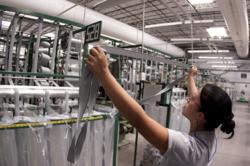 Innovation in narrow elastics has also been a priority. One example is our new flame resistant narrow elastics that self-extinguish and will not melt or drip
San Salvador - Republic of El Salvador and Westerly, RI - USA (PRWEB) June 07, 2012
This year George C. Moore Company celebrates 103 years of history and growing technical experience, with the last 6 years including successful operations overseas. "We decided to invest in the DR-CAFTA textile and apparel industry and take advantage of proximity to where our US customers are sewing their products. Our goal was to reduce lead times and support our customer's speed to market strategy," said Andrew Dreher, Senior Vice President.
In the last 6 years, George C. Moore's El Salvador operation won three "Supplier of the Year" awards due to constant improvements in quality, delivery, innovation and cost control. This has allowed Moore's customers to enhance their value at retail and be more competitive. Also, George C. Moore has continually invested in enhancing manufacturing capabilities and the technical skills of associates based in El Salvador, installed additional capacity and broadened product lines.
As Dreher notes, "Innovation in narrow elastics is also a priority. One example is our new flame resistant (FR) narrow elastics that self-extinguish and will not melt or drip." In a recent interview, Jaime Campos, General Manager El Salvador stated, "We have a professional, experienced and dedicated design team whose only goal is to meet our customers customized needs. We are committed to innovate and provide value added services that enhance our customer's product branding and performance."
The company is part of a regional textile and apparel synthetics cluster that includes yarn producers, fabric mills and apparel manufacturers. "We have been very impressed with commitment and loyalty of our workforce in El Salvador. We are committed to our people, to the country and with the region for the long run" said A. Dreher.
About George C. Moore Company
George C. Moore Co. manufactures plain, printed and Jacquard woven and knit narrow elastic for underwear, intimate apparel, athletic compression, men's and women's slacks, performance apparel, dancewear, swimwear, orthopedic & medical, industrial and military markets. Their value added services include cutting and looping, fabricated waistbands, silicone applications, technical finishes, permanent fire resistance and other assorted offerings.
George C. Moore is a division of The Moore Company, founded in 1909 and still focused on innovation. Sister divisions include Darlington Fabrics, Fulflex, Moeller Marine, Moeller Plastics, and AMER-SIL.
The Moore Company continues to manufacture products in the United States. International manufacturing facilities complement domestic capabilities while serving regional markets around the globe.