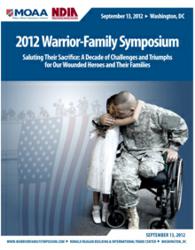 This year's theme is: "Saluting Their Sacrifice: A Decade of Challenges and Triumphs for Our Wounded Heroes and Their Families"
Arlington, VA (PRWEB) June 11, 2012
The Military Officers Association of America (MOAA) and the National Defense Industrial Association (NDIA) have announced their plans to honor wounded heroes and their families at the 2012 Warrior-Family Symposium (WFS) scheduled for Thursday, September 13, 2012 from 8:30 am to 3:30 pm at the Ronald Reagan Building and International Trade Center.
This year's WFS event will be focused on the theme "Saluting Their Sacrifice: A Decade of Challenges and Triumphs for Our Wounded Heroes and Their Families." This event promises to offer a unique and valuable opportunity to hear directly from our nation's wounded warriors and their families.
Event co-sponsors MOAA and NDIA plan to provide a forum for expanding on the collective efforts of government and non-government organizations to improve the physical, psychological and overall well-being of wounded warriors and their families.
This year's WFS program features:

First-hand accounts from our Nation's wounded warriors, and their family members/caregivers, about their experiences, challenges and triumphs.
Important and relevant transition topics such as medical-disability benefits, care coordination, family-caregiver support, and employment-transition services.
Special recognition of wounded warriors who have achieved significant milestones in their lives, and organizations that provide examples of effective public-private partnership models for assisting our heroes and families during difficult times of transition.
With the focus on such topics, the WFS will offer all who attend an overall awareness of our Wounded Warriors' needs and, subsequently, lead to the further enhancement and refinement of programs and services that will benefit them and their families.
Registration for this year's WFS is open. For more information and to register, visit http://www.warriorfamilysymposium.com.
About MOAA:
MOAA is the nation's largest and most influential association of military officers. It is a powerful force speaking for a strong national defense and representing the interests of military officers and their families at every stage of their careers.
About NDIA:
The National Defense Industrial Association (NDIA) is America's leading Defense Industry association promoting national security. NDIA provides a legal and ethical forum for the exchange of information between Industry and Government on National Security issues. NDIA members foster the development of the most innovative and superior equipment, training and support for warfighters and first responders through our divisions, local chapters, affiliated associations and events.