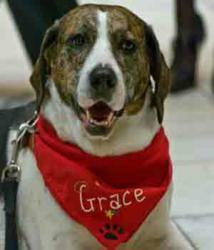 Riding along as the caravan's talisman will be Grace, a gentle, aging pooch that escaped a gas chamber death in 2006 at the Liberty Animal Control shelter.
Folsom, NJ (PRWEB) June 07, 2012
Prince Lorenzo Borghese, along with a network of pet lovers and animal rights advocates, will embark on a multi-state rescue caravan July 12-15, aimed at raising awareness to common animal cruelty practices in America's animal shelters. Their goal is to rescue 100 or more adoptable dogs from the Liberty Animal Control facility in Hinesville, Georgia.
Riding along as the caravan's talisman will be Grace, a gentle, an aging pooch that escaped a gas chamber death in 2006 at the Liberty Animal Control shelter, whose story inspired a dedicated animal rights journey as well as the caravan's name.
Karen Talbot of the animal aid organization Making of Miracle Stories (MOMS) along with Borghese, co-founder of Animal Aid USA and an ambassador to the American Humane Society, are spearheading the caravan rescue that will take them, Grace, her owner Phil Draughon, and their supporters through New Jersey, Delaware, Maryland, Virginia, North Carolina and Georgia, with daily stops scheduled to raise awareness for animal advocacy, spay and neuter programs, and animal adoption.
Joining Borghese and Talbot will be American Humane Association President and CEO Robin Ganzert, Ph.D., in support of the caravan and its lifesaving mission.
The Amazing Grace Caravan was inspired when Grace, one of a group of dogs slated to die by gas euthanasia at the Hinesville, Georgia shelter, managed to survive the gruesome ordeal and received national attention in the aftermath. The resulting Grace's Law was passed on December 31, 2010, banning the use of gas chambers to euthanize animals in Georgia shelters. The goal of the Amazing Grace Caravan is to raise awareness about the high level of cruelty gas euthanasia inflicts on the animals, and change laws in order to ban the practice unilaterally in all states. Gas euthanasia remains legal in a majority of U.S. states.
In addition, the caravan aims to spread information on low cost and free spay and neuter programs and the dangers of pet overpopulation. The group will provide information on how shelters like Hinesville's operate, and emphasize the importance of adopting shelter animals as pets.
The Amazing Grace Caravan will be making stops and participating in events at the following locations:

Thursday, July 12 Maryland House I-95 mile marker 82, Aberdeen, MD 21001
Thursday, July 12 Gander Mountain Store/10150 Lakeridge Parkway, Ashland, VA 23005
Friday, July 13, Fairfield Marriott/95 Fayetteville/1925 Cedar Creek Road, Fayetteville, NC 28312
Friday, July 13, Arrives in Hinesville Liberty County, Georgia (approximately 5 p.m.)
Saturday, July 14, Liberty Animal Control Animal Release/Miracle Ranch, 194 Hugh Gordon Lane, Ludowici, GA
Saturday, July 14, Dinner (TBD) hosted by MOMS
For information on participating in the Amazing Grace Caravan, visit http://www.animalaidusa.org. Borghese, a New York City resident and founder of the Royal Treatment line of pet products, is a familiar face in the animal welfare scene, where he lends a welcome voice to a multitude of charitable organizations whose mission is to improve the quality of life for the planet's animal population.
About Prince Lorenzo Borghese and Royal Pet Club:
Prince Lorenzo Borghese, founder and president of Royal Pet Club and Royal Treatment Italian Pet Spa, is passionate about the well being of animals everywhere. His line of pet-friendly organic products were originally created for his beloved Black Lab, Belle. For nine consecutive years, Royal Treatment has been the most successful pet line on the HSN shopping channel. A vocal advocate of spaying and neutering programs, Borghese donates five percent of Royal Pet Club profits plus $2 for every new customer to Animal Aid USA to support spay and neuter programs across the U.S. Through this program, families unable to afford the cost of having their dog spayed or neutered will be able to have the procedure done for free by a top veterinarian in their community.
Borghese's line of Royal Treatment products were developed to support pet wellness with premium, natural dog shampoos, conditioners, and other organic pet grooming supplies.
Borghese's Royal Pet Club is the online destination for the Royal Treatment line's of natural pet spa and wellness products. Made from the finest organic ingredients and fragrance oils, Royal Treatment's pet grooming products have been developed with the help of leading cosmetics manufacturers, world-renowned veterinarians, and other pet experts from around the world. Formulated in a cosmetics laboratory on the outskirts of Tuscany, Italy, all Royal Treatment grooming products are pH balanced for pet's sensitive skin.
Borghese has worked with numerous animal welfare organizations including North Shore Animal League, the ASPCA and Animal Care and Control of NYC. He is co-founder of NYC4ACC, a group of young professionals who organize fundraisers for this city shelter, and an ambassador to the American Humane Association.
To participate in the Amazing Grace Caravan, which is open to the public, please visit http://www.animalaidusa.org/
For more information, visit the Royal Pet Club website, or Email John Falkenberg.
###