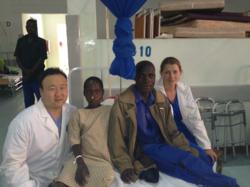 The rewards associated with this kind of work are an even bigger gift to me.
San Francisco, CA (PRWEB) June 21, 2012
On the heels of a successful cleft nose and palate surgery for a teenager who traveled from Rwanda to San Francisco earlier this year, Dr. Roy Kim scheduled a trip to Blantyre, Malawi, to continue his medical mission work this summer.
"When you volunteer to help a child whose facial deformities have likely caused him to be an outcast in his community for years, you know that you are giving a life-changing gift. But in reality, I have found that the rewards associated with this kind of work are an even bigger gift to me," said Dr. Kim. "After working with Jean-Claude from Rwanda earlier this year and having operated at Hospital de la Familia in Guatamala in 2004, 2006, and 2008, I am thrilled I got the chance to work in Malawi."
Dr. Kim traveled with Operation of Hope, a not-for-profit, all-volunteer surgical team that provides free surgeries to children in developing countries who are born with or suffering from facial deformities. Founded in 1988, by retired ear, nose and throat physician Dr. JP Clawson, the team has impacted the lives of over 2,500 children.
Dr. Kim departed on May 30 and returned on June 10, 2012, during which time he performed surgery on 24 children with cleft palates or cleft lips. Cleft palate and lip are variations of a type of clefting congenital deformity caused by abnormal facial development during gestation. A cleft is a gap or non-fusion of the body's natural tissues before birth. Approximately 1 in 700 children are born with cleft deformities and most can be successfully treated with surgery, especially if performed when the child is still very young.
For more information and photos from Dr. Roy Kim's Medical Mission with Operation of Hope, visit Dr. Kim's blog.
Operation of Hope: http://www.operationofhope.org
Dr. Roy Kim is a plastic surgeon with 14 years of private practice experience in San Francisco's financial district. He is a Diplomate of the American Board of Plastic Surgery and a member of the American Society of Plastic Surgeons, The American Society for Aesthetic Plastic Surgery, and the California Society of Plastic Surgeons. He regularly writes about plastic surgery and the issues surrounding it on his blog at http://www.drkim.com/blog.
Contact Info:
Dr. Roy Kim
220 Montgomery Street, Suite 348
San Francisco, CA 94104
415-354-8148