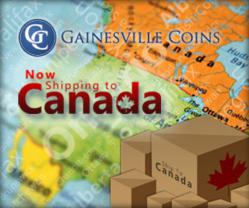 Gainesville Coins Ships Gold and Silver to the World
Lutz, FL (PRWEB) June 07, 2012
Gainesville Coins is pleased to now offer shipping to Canada. Canadian residents can now take advantage of Gainesville Coins' superior selection of precious metal bullion at industry leading prices. Gainesville Coins is one of the largest precious metal dealers globally, and currently ships to 46 countries and territories.
"Canada is one of the largest markets for precious metal investors and collectors, and we are pleased to add Canada to the growing list of countries that we can ship to," said Daniel Nathan, Head of International Sales at Gainesville Coins.
Among the many international milestones at Gainesville Coins, in April of 2012, Gainesville Coins was approved as an official distributor of the Royal Mint of the United Kingdom, one of the largest and well-known mints in the precious metals industry.
"Gainesville Coins continues to expand our network of direct distribution agreements. These arrangements allow us to provide gold and silver bullion at industry leading premiums," notes Daniel.
Gainesville Coins offers gold, silver, platinum, and palladium to both collectors and investors. Go to Gainesvillecoins.com to view one of the widest selections of precious metal coins and bars, all at industry leading prices.
Take Advantage
To welcome back Canadian customers, Gainesville Coins is offering the 2012 1 oz Silver Canadian Maple Leaf coin at just $1.89 over spot for any quantity.