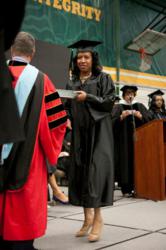 Saint Leo, FL (PRWEB) June 20, 2012
Saint Leo University graduate, Shakeya Scott, is using her education to rise above personal tragedy. Scott, who lost her husband in 2006 during his Army service in Afghanistan, recently earned her online degree in business administration, and received the Dr. Michael Rogich Endowed Center for Online Learning Student Award, for being an outstanding representative of Saint Leo University.
At Saint Leo University, a Catholic, liberal arts university near Tampa, Florida, students are expected to live the University's mission and embody the values of excellence, respect, integrity, personal development, community, and responsible stewardship. Scott's accomplishments reflect her commitment to learning, living, and working harmoniously—to finding balance in her own life and strengthening the character of the community.
Scholarship Named for Computer Science Professor
Dr. Michael Rogich is well known to students pursuing a computer science degree, since in addition to being a professor in the computer science and information department in Saint Leo's Donald R. Tapia School of Business, he is also a reviewer for the Journal of Management Information Systems and IEEE Systems, Man and Cybernetics.
But his contribution to Saint Leo extends far beyond the students he engages with in the classroom. Before joining the full-time faculty, Dr. Rogich was director of the university's Center for Online Learning. Under his leadership, the Center grew from approximately 150 students to nearly 5,000 students.
The Center for Online Learning exists to help people like Scott complete their degree and enjoy the rewards that come with a college diploma.
An Education to Kick-Start a New Life
Scott is part of a growing demographic of college students—adult learners who are 25 years of age or older. According to NCES, the primary federal agency for collecting and analyzing education data in the U.S., adult learners make up 38 percent of the college population. The average undergraduate enrolled in Saint Leo's online programs is 34 years old.
Adult learners have slightly different aims and needs than students fresh out of high school. Because many have prior work experience, adult students are looking to re-route their careers, earn promotions and take on new responsibilities. They realize that it's never too late to pursue a dream, and education is the best enabler. They seek programs that are flexible and convenient; degree completion online allows them to balance their existing family and work obligations with the added responsibility of college courses.
For Scott, earning an online degree in business administration is a step towards her ultimate goal of opening a state-of-the-art daycare center. The adult learner had always worked in customer service until she lost her husband; in an effort to make a better life for her children, she decided to pursue business studies at Saint Leo University. Scott now works as a teaching assistant in the Norfolk, VA, public school system, and intends to apply the $450 Rogich Scholarship towards a master's degree in education.
Saint Leo's online degree in business administration is designed to help students, such as Scott, transform their entrepreneurial visions into tangible goals, business plans, and personal success. To prepare for all the business challenges and opportunities they'll face, students take classes in general business practices, accounting, marketing, macro- and microeconomics and business law. Undergraduates enroll at any time of the year in an online program, and begin their studies during one of Saint Leo University's six convenient start dates throughout the year.
About Saint Leo University
Saint Leo ranks as one of the top universities in the South, according to U.S. News & World Report's "America's Best Colleges" list. Saint Leo's traditional liberal arts campus, located 30 miles north of Tampa, educates more than 1,900 students. Total enrollment across its campus, regional education centers, and online programs exceeds 15,000. Among the oldest Catholic universities in Florida, Saint Leo is one of the nation's 10 leading providers of higher education to the U.S. military, and is a nationally recognized leader in online education.
To learn more about Saint Leo's online degree in business administration, visit http://online.saintleo.edu/academics/bachelors-programs/online-degree-in-business-administration.aspx.