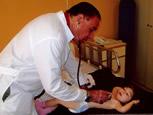 STEMCELLREGENMED....... CHALLENGING THE INCURABLE
Aventura, North Miami, Florida (PRWEB) June 11, 2012
In a time of such an amazing biotechnology medical era in which diseases currently considered incurable can now be challenged. Stem cell Regenmed treats conditions such as ALS (Amyotrophic lateral sclerosis), Tay Sachs, Duchenne Muscular Dystrophy, Alpha 1 Antitrypsin, Alzheimer's, Autism, Brain Damage, Cerebral Palsy, Multiple Sclerosis, Spinal Cord Injury, Parkinson, Heart Disease, COPD, Diabetes, Chronic Kidney Disease, Scleroderma, Lupus, Rheumatoid Arthritis, Crohn's, Cancer of all types, Macular Degeneration and Retinitis Pigmentosa. The emerging developments in stem cell therapy, gene therapy, nanotechnology and tissue engineering offer new hope to millions of patients.
As one of the original physician scientists to create protocols that have been patented, Dr. Burton Feinerman believes in challenging the incurable with stem cells and gene therapy. There is no such thing as giving up and losing hope. The staff at StemcellRegenmed are here for our patients and their families 24 hours a day, 7 days a week. StemcellRegenmed works with the patients' primary physicians and specialists. All phone consultations are FREE, as well as house call visits for homebound patients within Miami-Dade, Broward and Palm Beach Counties. If treatment outside of the United States is required due to FDA regulations, there will always be a member of the Miami, Florida staff with you while out of the country.
There are many companies out there but StemcellRegenMed is a Pioneer in this field and continues to lead the way. We are the #1 company treating diseases naturally with your body's own stem cells, the natural healer.
StemcellRegenmed is always seeking "Investors" who wish to take part in this rapidly growing field of medicine. The plan for the very near future is to expand our centers that are presently in Miami, Fl and Lima, Peru to Dallas, Texas; Los Angeles California and Maui, Hawaii.