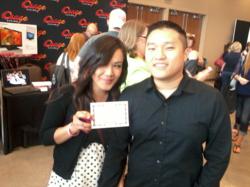 PartyPOP.com features over 2 million highly accomplished and professional companies in the event planning industry.
(PRWEB) June 07, 2012
PartyPOP.com recently announced free wedding invitations and an RSVP website for any engaged couple in the United States, Canada and the United Kingdom. The company has re-purposed their 2012 marketing budget in hopes of building brand awareness and loyalty. According to reports from within the Southern California based company, it's working.
PartyPOP.com features over 2 million highly accomplished and professional companies in the event planning industry including Repicci's Italian Ice of San Bernardino County, Livermore Wine Carriage~wine Tasting Tours, The Cigar Guys - Cigar Events, and Aces and Angels.
Repicci's Italian Ice serves thousands of locations from Philadelphia to Los Angeles. Dominic Francesco Repicci immigrated from Messina Italy, to America in 1911 and he brought the family secret with him: An Old World recipe for Italian Ice. At first, Dominic shared his family's Italian Ice with friends and neighbors in South Philadelphia, but soon others were requesting this delicious Italian treat! It wasn't long before Dominic found himself busy producing his family's unique product to meet an overwhelming demand.
Dominic's grandson, Frank, has carried on Dominic's passion for offering a quality frozen treats. In 1998, Frank opened a manufacturing plant in Chattanooga, Tennessee. The popularity of Repicci's Italian Ice grew rapidly throughout the Southeastern U.S. Today Repicci's Italian Ice is served at thousands of locations from Philadelphia to Los Angeles and from Miami to Sacramento. More information can be found online at http://www.partypop.com/v/4339777/.
Livermore Wine Carriage is a unique way to experience the Livermore wine country. Servicing the Danville and San Francisco area, the company is unique in that it operates independently of any single winery in the region. Over the span of 4 hours, Livermore Wine Carriage provides guests the opportunity to experience 3-4 different wineries. Not only do guests get to stop for tastings at multiple wineries, but they are also transported in a luxury Victorian carriage drawn by a majestic Scottish Clydesdale. More information can be found online at http://www.partypop.com/v/4357905/.
Located in sunny Southern California, The Cigar Guys host events at cigar-friendly venues such as restaurants, clubs, and cigar shops. The Cigar Guys look to promote cigar shops and the natural camaraderie of cigar smoking. The Cigar Guys target professionals who desire to meet and network with other professionals while enjoying good cigars and great people!
"We see a lot of connections being made at our events. It's all about people becoming friends, people doing business. It's great! It's exactly what Tony and I thought a networking event should be like." - From the guys themselves. More information can be found online at http://www.partypop.com/v/4273336.
Aces and Angels is the number one casino party company in Los Angeles, CA. The company handles all the details of casino themed parties for their clients. Aces and Angels will supplies the best casino theme party dealers and equipment, creating a fun and exciting evening for guests. The company was started in 2010 and only provides top quality staff. All the Aces and Angels caterers are beautiful and intelligent models; therefore, the company motto is "Sophisticated. Sexy. Elegant". Aces and Angels is available for ever casino night, theme party, fundraiser, and rentals. For more information including gallery of dealers, caterers, and equipment go to http://www.partypop.com/v/4378555.
About PartyPOP.com: the largest party, wedding and event planning online network:
Before the Internet era, the professionals at PartyPOP.com were successful hands-on party planners and special event producers. For more than a decade PartyPOP has translated 30 years of party planning experience onto the Internet. Millions of vendors are listed on the network consisting of 60+ websites and tens of millions of customers have used the network to plan their parties, weddings and events. PartyPOP.com also provides party and event related tips, themes and ideas, as well as a free full wedding planning software called Seating Arrangement.
About Free Printed Invitations by PartyPOP.com:
PartyPOP provides every bride and groom across the USA, Canada and the U.K. with free beautifully designed wedding invitations, printed on 80lbs card stock paper with matching envelopes and wedding website. Even door to door shipping is included at no cost. There are no hidden fees, no obligations to buy and no strings attached!