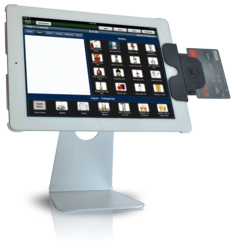 Combining POS Lavu's sleek software with the security and stability of USAePay's Payment Gateway results in a satisfied customer.
Los Angeles, CA (PRWEB) June 12, 2012
USAePay is pleased to announce that it now offers the POS Lavu iPad point of sale option to its merchants. Companies currently using or planning to use POS Lavu solutions can now do so in conjunction with the USAePay payment processing gateway.
POS Lavu is Point of Sale software that takes full advantage of Apple's iPad and iPhone technologies. Lavu Inc. sells the POS Lavu software license and provides secure hosting for a monthly fee. The solution is fully PCI compliant and secure, never handling any unencrypted, sensitive data.
"When we saw POS Lavu in action we knew this was a quality product that any restaurant owner would love. Combining POS Lavu's sleek software with the security and stability of USAePay's Payment Gateway results in a satisfied customer. We're happy to partner with a new force in tablet based POS systems," said Vlad Galyuz, VP of Integration at USAePay.
A leading payment processor, USAePay is known for its thorough and ongoing security and fraud prevention efforts. Compliant with all regulations set forth by the PCI Security Standards Council, USAePay has also teamed with additional fraud-prevention services to provide the most secure processing available. The recent integration gives current POS Lavu users the option to process credit card payments via the most secure methods available.
With detailed reports, kitchen display, mobile ordering, credit card swipe and wireless printing all working in sync, POS Lavu is a complete solution fit for small restaurants and national chains alike. From small coffee shops to large fine-dining establishments, POS Lavu software can be scaled to fit any operation and has the features to support it.
POS Lavu is also suitable for multi-location accounts and corporate-level clients. "With this partnership we can now offer any customer a fully-configured and installed POS Lavu system and processing solution within a week of purchase," said Travis Kellerman of Lavu Inc.
About Lavu Inc.
Lavu Inc. was formed in 2009 in Albuquerque, New Mexico by Andy Lim and Corey Fiala to develop web tools and software that make doing business easier, better integrated, and more efficient while keeping a clean, smart design sense in the process. Please visit http://www.poslavu.com for more information, including screenshots and videos plus testimonials.
About USAePay
USAePay, a GorCorp Inc. company, has been helping merchants process their credit card and check transactions with speed and security since 1998. Founded by the Goretsky brothers, the company is family-owned and based in Los Angeles, CA. The USAePay gateway currently supports all of the major platforms (First Data, TSYS, Global, Paymentech) in the credit card industry and works with some of the leading check platforms. USAePay is also pleased to work with many of the larger merchant service banks in the US and abroad. For more information, please visit http://www.usaepay.com or call 866.USA.EPAY (872-3729).