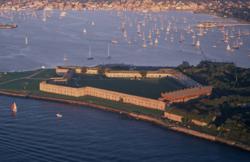 Navigate the mysterious underground tunnels or experience amazing soaring architectural spaces
Newport, Rhode Island (PRWEB) June 08, 2012
Famous for exciting sailing, Newport Rhode Island also offers fun and adventure on land. Fort Adams, one of Newport's major destinations just received a major facelift and looks better than it has in 50 years. For those looking for things to do in Newport, there is more going on than ever. And a newly renovated Fortress adds to the adventure with redesigned tours, more access and new events.
Historic Fort Adams is a National Historic Landmark, and the largest and most complex coastal fortification in North America. Rick Nagele, Interim Executive Director tells visitors, "You can explore the fortress and outer defensive works, navigate the mysterious underground tunnels, experience amazing soaring architectural spaces, take a two mile walk around the peninsula on the Bay Walk, relax on the grass overlooking Narragansett Bay, fly kites or play Frisbees, even picnic. And yes, the Park is dog friendly."
Rob McCormack, responsible for the visitor experience at the Fort notes, "As you walk through the Fortress today, you can see where the soldiers lived, understand how the defenses worked, and get a real taste of what it was like to have been stationed at this major military center."
According Nagele, "Visiting Fort Adams is like experiencing the architecture and engineering of Europe's castles and cathedrals. But we're a lot closer to home."
Site Manager Jack McCormack stresses the unique aspects of Fort Adams versus other remaining coastal fortifications. "First of all, it's very large. The parade field in the center of the Fortress is 6 ½ acres. You can put Fort Sumter, Fort Ticonderoga and Fort McHenry all inside the walls of Fort Adams."
"But what I'm thrilled to see," Jack says, "is the how fabulous the Fortress looks after she got a shave and a haircut. Underbrush had gotten ahead of our ability to keep the walls and outworks clear. Trees were growing in defensive areas where the whole idea was to deny the enemy any protection or cover. Shrubs and bushes were growing from the walls – from nooks and crannies that were so high we could not reach them. And we didn't have the money to rent the expensive equipment required."
"But," adds Jack, "after having construction crews at the Fortress since December, we've got things looking better than in the 1950s when the Fort was still in military service."
About Fort Adams
Fort Adams is a National Historic Landmark, located in Newport Rhode Island. It is operated by the not-for-profit Fort Adams Trust. It is open for tours and events and private spaces within the Fort can be rented for weddings, receptions, corporate meetings and specialty events such as car and antique shows. Fort Adams regularly schedules activities such as re-enactments from the Civil War, Revolutionary War, and War of 1812. The Fort also hosts frequent ghost hunts and ghost walks
The Fort Adams Trust created Bay-Walk, a 2 1/4 mile walk around the Fort Adams State Park. The paved walk offers views of the Fortress, Newport Harbor, and Narragansett Bay. The Park is pet friendly (leashes please).
Tours are held daily from 10:00 AM until 4:00 PM. Self-guided tours, starting in July, are $6; guided tours $12. A family of two adults and up to 4 children can visit for $30. There is ample free parking at the Fort.
Fort Adams is host to the world famous Newport Folk and Jazz Festivals. In 2012, Fort Adams is a host site for the America's Cup World Series in Newport from June 23 through July 1 and is the premier viewing site for the Tall Ships Newport Parade of Sail on Monday July 9.