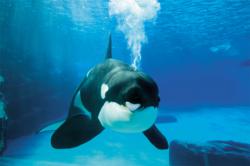 Mom, Dad and the kids have worked hard all year. The least we can do is provide an outstanding combo of entertainment, rides and family fun for everyone to enjoy
Niagara Falls, ON (PRWEB) June 08, 2012
Two of Niagara's most popular family-oriented destinations, Marineland Canada and Clifton Hill, have teamed up to provide a spectacular summertime vacation offer.
For a limited time, visitors can stay one block from the Falls on Clifton Hill, and enjoy both the excitement of Marineland and Clifton Hill's World Famous Street of Fun by the Falls.
"Mom, Dad and the kids have worked hard all year. The least we can do is provide an outstanding combo of entertainment, rides and family fun for everyone to enjoy", said Nicholas Tritchew, Marketing Executive at HOCO Entertainment & Resorts. "Before the kids get restless, and the vacation plans get carved in stone, travelers will definitely want to take advantage of our recently announced Marineland package."
The exclusive money saving package includes:
-3 Admissions to Marineland Canada
-3 Admission tickets to the SkyWheel
-2 night accommodations at the Comfort Inn
-15 tokens for the Great Canadian Midway
-Large 2 Item Pizza at Boston Pizza
-$5.00 Voucher for Tim Horton's
-Deluxe Continental Breakfast
-Free high speed WI-FI internet
You'll Have a Whale of a Good Time!
Since May 17th, Marineland operations have been in full swing. Guests can enjoy thrilling rides, live shows and an opportunity to interact with many fascinating sea creatures. Underwater viewing stations and special touching and feeding sessions provide an experience that is truly memorable.
After an exciting day interacting with killer whales, beluga whales, sea lions, dolphins and thrilling rides, vacationers can segue right into Clifton Hill's dazzling promenade and enjoy: the nearby Falls, upscale attractions, entertainment and dining, followed by a relaxing night's sleep at the Comfort Inn Clifton Hill.
"It's an amazing package, at an incredible price," said Tritchew. "Quantities are limited, so early bookings are recommended. Once Marineland's television ads start rolling out, this offer will be snapped up quickly."
Visitors should book soon to secure their desired dates and avoid disappointment. Click here for secure bookings: Marineland Package Info
For more information, including media inquiries, contact HOCO Entertainment & Resorts by phone 905-357-5911 or marketing(at)cliftonhill(dot)com
About HOCO Entertainment & Resorts
HOCO provides attractions such as the Niagara SkyWheel (Canada's largest giant wheel), Dino Adventure Golf, Strike Rock N Bowl and The Great Canadian Midway.