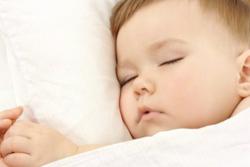 Babies who rely on feeding to fall asleep will sleep shorter periods of time and wake more often during the night.
Chicago, IL (PRWEB) June 08, 2012
In a recent study published in the Journal of Paediatrics and Child Health on May 23, 2012, researchers concluded that breaking the association between feeding and sleeping is crucial to improve infants' sleep habits while breastfeeding. Infant and child sleep expert, Kim Schaf, M.A.T., agrees that babies who rely on feeding to fall asleep will sleep shorter periods of time and wake more often during the night.
In this study, parents of 10,321 infants (ages 0-11 months) completed an infant sleep questionnaire. Approximately half (46%) of the babies were being breastfed at the time of the study. Researchers found that the frequency and duration of night wakings increased for babies who were currently being breastfed, and concluded that breastfed babies were getting less consolidated sleep. The breastfed babies who were 6 months old or younger also had longer periods of daytime sleep and logged more hours of sleep in general. Researchers concluded that infants who fell asleep while nursing had increased night wakings (2.4 vs. 1.7 wakings) and shorter periods of consolidated sleep during the night (5.6 vs. 6.9 hours).
There was no significant correlation between night wakings and duration of consolidated sleep for infants when the variable of falling asleep during feeding was removed. In order to increase consolidated sleep, it is best to break the association between feeding and sleeping.
Chicago-based certified infant and child sleep consultant, Kim Schaf, agrees that parents should teach their children how to fall asleep independently without the use of a sleep prop. "The goal as a new parent is to let baby find ways to get to sleep on his or her own, without always relying on mom to send him off to dreamland," says Schaf. When babies fall asleep while nursing, they will inevitably wake up shortly after being placed in the crib—if not during the transfer into the crib. As they learn how to sleep without a sleep prop, they will be able to fall asleep on their own and night wakings will be eliminated.
About Sleep Training Solutions
Sleep Training Solutions, a leading infant and child sleep consulting company based in the Chicago area, provides education and training to parents and caregivers in the Chicago area and across the country to resolve sleep problems in infants and children. Sleep problems that can be addressed include issues with bedtime, night wakings, naptime and early rising in infants and children up through age eight through private consultations and group seminars. A free 15-minute telephone evaluation is currently being offered to parents to discuss child's sleep situation and a free report on helping baby sleep through the night is available on the website. Find us on Facebook and Twitter.
About Kim Schaf
Kim Schaf is the Founder and President of Sleep Training Solutions and the Midwest Regional Director (USA) for the Association of Professional Sleep Consultants (APSC). After completing an extensive training and mentoring program with one of the world's most respected child sleep authorities, she became a Certified Infant and Child Sleep Consultant and offers expert guidance on behavioral sleep issues to parents across the country. She also provides community education on child sleep issues, leading workshops at preschools, day care centers, pediatrician offices and new mom groups. Kim has a Master of Arts degree in Teaching and is a member of the American Sleep Association and the North Suburban Children's Business Network. She lives in a northern suburb of Chicago with her husband and two small children, both of whom are excellent sleepers.
For more information
Contact: Kim Schaf, M.A.T.
(847) 386-6285
Kim(at)SleepTrainingSolutions(dot)com
Photo Credit: © Serhiy Kobyakov | Dreamstime.com