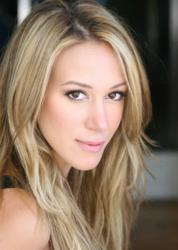 Beverly Hills, CA (PRWEB) June 08, 2012
Haylie Duff has been tapped to play the female lead role of Elizabeth in the upcoming comedy "A Love/Like Ours" to be directed by Matt Berman ("Hollywood & Wine").
Script is penned by Berman and is being produced by Courtney Brin, Stan Spry, Henry Boger, and Eric Woods and production company The Cartel.
"A Love/Like Ours" is a comedy about best friends Mitch and Elizabeth who before graduating college make a pact to marry each other in ten years if they're both still single, a decade later Mitch journeys across country to find Elizabeth and fulfill their promise. Duff will play Elizabeth.
"I've always been a fan of Haylie, and she was my first choice for this role. We feel extremely lucky to have her in our film" says Matt Berman.
Best known as Summer Wheatly from the hit film "Napoleon Dynamite", Haylie Duff has been working steadily in television and feature films since. Some of her most memorable roles include her series regular role on "7th Heaven" and her roles as Amy Sandler in the "Lizzie McGuire" franchise.
Duff is represented by Global Artists Agency and Curtis Talent Management.