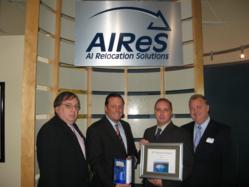 "This is a great example of a true partnership," said Jeff Wangler, "Our clients have needs in every part of the world, and AIT has responded to help us reach some pretty unique places."
Pittsburgh, PA (PRWEB) June 10, 2012
AIReS President Jeff Wangler and Mobility Manager Bob Smith were recently presented the AIT Diamond Customer of the Year Award for demonstrating excellent partner relations during 2011. For several years, AIT has remained one of AIReS' most dedicated service providers in the respective industries of transportation and logistics.
"This is a great example of a true partnership," said Jeff Wangler, "Our clients have needs in every part of the world, and AIT has responded to help us reach some pretty unique places."
Strong partner relationships often exert quality services, mutual benefits and positive outcomes for both parties involved. Mr. Wangler elaborated on the benefits of maintaining a partnership with AIT, including compliance, a sense of security, and promptness as well as accuracy with every delivery.
"In our business, speed is important and AIT has really demonstrated that they can respond quickly to our ever changing needs," said Mr. Wangler.
It is a great honor to be recognized for this award, and for a second time, as AIReS had previously received it in 2006. The award truly reflects the company culture as well as business practices regarding exceptional customer service.