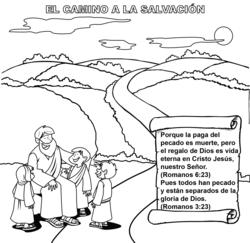 Jamestown, NC (PRWEB) June 12, 2012
Thousands of youth groups, churches and service groups travel on mission trips every year. Easy to carry resources to help them share the Gospel with children have been limited. In response Memory Cross has created an origami style coloring card that shares the Gospel in a creative way.
The Roman Road: Pathway to Life coloring card was created to help people who are going on mission trips share the Gospel. Based on the book of Romans this card helps children understand God's plan of salvation through Jesus Christ.
The card, which is available in English and Spanish, containing four panels that are designed so that the card never stops folding. The unique design fascinates children and captivates their attention, which helps them learn God's plan of salvation. The unique design also means that children will show the card to other kids and parents.
The Roman Road coloring card is printed in black and white which makes it ideal for a craft activity or Vacation Bible School and the size makes it easy to take along on a mission trip.
For years Christians have used verses in Romans to help people understand God's plan of salvation. This origami style coloring card is one of the few resources using Romans available to help kids understand God's plan of salvation.
About Memory Cross. Memory Cross creates origami style cards that never stop folding. They are designed to help teach Bible stories, share the Gospel and help children memorize Scripture.