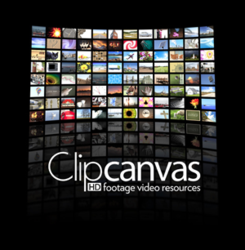 It gives us capabilities to develop certain additional audiovisual features going forward
Oslo, Norway (PRWEB) June 08, 2012
Clipcanvas.com, one of the leading online providers of crowd-sourced stock footage on the web today, just announced they are including customizable production music to their already 325,000 clips strong royalty-free stock video offering. As audio and music is such an integral part of the motion storytelling workflow, it is an obvious addition to the current stock footage offering.
To kick off this production music offering, Clipcanvas has partnered with SmartSound Software. SmartSound is the leading provider of customized, royalty free music for the creative media industry. It's patented technology and large library of music that can be customized to the specific creative and timing needs of a video project bring a new level of creative options and flexibility to visual creators of all skill levels. "We're really impressed with the technology and music offered by SmartSound, and this was an obvious next step for us at this stage. Also, it gives us capabilities to develop certain additional audiovisual features going forward" says Clipcanvas CEO Cato Salter.
The offering starts off with nearly 4,000 music tracks - all customizable to fit the individual production. This includes all genres, from classical music, jazz, pop, rock and independent music, to drama, lounge music, sounds effects, moods and electronic beats. Cato explains: "It is a great and varied collection of music tracks and audio effects to suit the most demanding production needs, and it is a great platform for us to build on in order to develop this offering moving forward. For us, this is just the first step in order to bring our users more audio to source from - both as a means for producers to find quality media and deliver better projects at a reasonable price, and as a way for music production houses to offer their work to a wider audience. We aim to be 100% useful, and this is just another step in the right direction we think." You can check out the production music on offer here: [Get production music on Clipcanvas.com
SmartSound's president and CEO, Kevin Klingler stated; "Our Cloud-based soundtrack creation system, called Quicktracks®, gives users the ability to easily set the length of the composition so it fits their scene or movie, precisely and easy control over the arrangement and the mix of the music so you can easily match the mood of the picture. SmartSound is the first product that gives the media creator complete control over how the music is fitting with their picture."
Like the stock videos on Clipcanvas, the music is licensed on a royalty-free license which allows for global production use, on any media, in perpetuity. It can be customized for any length of duration, with a variety of compositions and instrument mixes and is downloadable in high quality WMV. Typical uses for this include both commercial and non-commercial applications such as TV-shows, online video, documentaries, gigs, digital signage, corporate video, trade shows and events.
As an additional offering, Clipcanvas is running a weekly giveaway for the rest of 2012 - where users can win footage and try out the service. In addition, there are around 100 free stock video clips available on the Clipcanvas website, offered by the some of the many production houses, filmmakers and videographers offering their footage for sale via the service.
About Clipcanvas
Clipcanvas.com is one of the largest online marketplaces for royalty-free stock footage today, with a very large and growing archive of more than 325,000 high definition 1080p stock video clips, including a small but growing collection of 4k clips, and nearly 4,000 production music tracks available for download. All media content is royalty-free and offered for download in mostly any widespread codec and format available today. Individual producers from more than 50 countries offer their own work for sale on Clipcanvas, and also set their own prices ranging from budget to more expensive and unique content. Clipcanvas.com was launched in May 2008 and is based in Oslo, Norway.
To find out more, go to http://www.clipcanvas.com/
About SmartSound Software, Inc.
SmartSound Software, Inc., the world's leading provider of customizable royalty free music and music soundtrack solutions for visual content creators, is headquartered in Northridge, CA, USA. The company has been at the forefront of technological innovations in the industry, such as the award-winning Quicktracks Cloud-based Music Customization and Sonicfire Pro software with Custom Length, Timing Control™ and Mood Mapping® features for the latest Windows and Mac OS platforms. Other software products include plug-ins for Final Cut Pro, Avid/Pinnacle Studio, Adobe Premiere Pro CS 5.x and After Effects CS 5.x. Their Quicktracks® OEM SDK is embedded in video software from Adobe, Avid, Corel, Cyberlink, Roxio and others. SmartSound offers a vast and fast-growing library of royalty free music available in both stereo and a Multi-Layer format with control over separate instrument layers.
For more information, see http://www.smartsound.com/