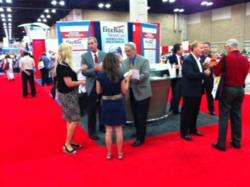 fiteBac received from visitors, hundreds of complaints of skin damage being the single largest challenge faced by infection preventionists.
Marietta, GA (PRWEB) June 11, 2012
fiteBac SkinCare, LLC attended APIC's 39th Annual Education Conference and International Meeting in San Antonio, TX on June 4-6, at which the theme was Infection Prevention: Improving Outcomes, Saving Lives. fiteBac SkinCare exhibited it's innovative Germicidal Hand Softening Gel that it believes will significantly increase healthcare professionals' commitment to outstanding hand hygiene practices due to its skin-friendly formulation.
fiteBac SkinCare's booth at the APIC meeting was continuously swarmed by infection preventionists interested in finding a hand sanitizer that was gentler on the skin. The three-day APIC conference helped introduce fiteBac SkinCare Germicidal Hand Softening Gel to infection preventionists and health care professional end users. fiteBac's Hand Softening Gel is a popular alcohol-free, water-free, petroleum-free and fragrance-free sanitizer developed to help maintain soft hands while following good hand hygiene practices.
fiteBac SkinCare demonstrated the hand sanitizer's cutting-edge technology to very curious infection preventionists, many of whom expressed their surprise and pleasure with how soft and silky the product made their hands feel. It's a revolutionary, silicone-based co-cross polymer formulation that leaves hands feeling silky smooth even after frequent glove changing, application of other alcohol-based hand sanitizers, or hand washing. fiteBac's unique formulation helps overcome compliance issues faced by medical and hospital communities from traditional alcohol-based hand sanitizers that can dry and damage skin. Silky hands while sanitizing rendered fiteBac's booth popular at the annual scientific meeting. The overwhelmingly positive response has lead to fiteBac's early announcement of plans to attend APIC's Annual Educational Conference & International Meeting at the Ft. Lauderdale Convention Center in Ft. Lauderdale, FL in 2013.
fiteBac SkinCare is dedicated to encouraging healthcare professionals heighten their commitment to excellent hand hygiene practices by engineering a product that alleviates skin damage caused by frequent hand washing and traditional alcohol and water-based formulations. "fiteBac wants to help infection preventionists achieve their mission to maintain outstanding hand hygiene practices, which will help protect professionals and the patients they treat. Our unique hydrophobic formulation of skin-friendly co-cross polymers will encourage better compliance by improving the condition of professionals' skin," noted Kirk Kimmerling, CEO of fiteBac SkinCare. Dan Kearney, fiteBac's COO, commented that "we received from visitors to our booth hundreds of complaints of skin damage being the single largest challenge faced by infection preventionists in improving their staff's commitment to excellent hand hygiene practices. We are confident fiteBac is the answer to a longstanding problem, and based on those same visitors' reactions to trying our product, think they share our belief that fiteBac will be a very effective tool to encourage much-improved hand hygiene practices."
fiteBac SkinCare Germicidal Hand Softening Gel's clinical and research data shows the sanitizer a skin-friendly and effective addition to hand hygiene protocols that can improve sanitizing outcomes for generations to come. The product is cost-effective, a .5 ml application covers both hands and wrists, front and back. "fiteBac intends to provide the hand sanitizer at a very economical cost to the facilities and The APIC Conference was an excellent start," noted Kimmerling.
About fiteBac™ SkinCare, LLC and KHG: fiteBac SkinCare, LLC is a subsidiary company of Kimmerling Holdings Group, LLC ("KHG"), a Georgia-based biotech company that has developed an antimicrobial platform intellectual property technology. KHG was founded in 2009 by a cosmetic dental care, dentist Kirk Kimmerling, DDS and Dan Kearney. The two set out to create products to "change the world, one product at a time." Kirk and Dan first targeted bacterial issues in his dental office, knowing that solving those problems would lead to dramatic improvements in oral health, and more importantly, systemic bodily health beginning with the . They engaged a team of highly accomplished chemists and scientists retired from Fortune 500 companies and researchers from major universities. In doing so, KHG has developed technology with several patents pending that has application well beyond dental materials, and has exciting potential in medical, plastic, composite, coating and other applications that are in various stages of development, some close to commercialization. fiteBac™ SkinCare Hand Softening Gel is the first product to be released under the fiteBac brand name.