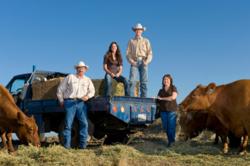 The award is a great way to celebrate those individuals and families whose sound natural resource stewardship keeps California's environment and economy vibrant. - Ashley Boren, Sustainable Conservation
San Francisco, Calif. (PRWEB) June 08, 2012
Sand County Foundation, Sustainable Conservation and the California Farm Bureau Federation are seeking nominations for the 2012 California Leopold Conservation Award.
"Last year's recipient, Tim Koopmann, is an exceptional land steward, but he and his family aren't the only landowners in California doing exceptional work for natural resources," said Dr. Brent Haglund, Sand County Foundation President. "We look forward to meeting and honoring more innovative farming and ranching families, like the Koopmanns, who are committed to the enhancement of California's landscape."
The $10,000 award recognizes California farmers and ranchers who demonstrate outstanding, sustainable management of natural resources. The Leopold Conservation Award is presented in honor of famed conservationist and author Aldo Leopold, who called for an ethical relationship between people and the land they own and manage.
"Farmers and ranchers are often-overlooked conservation leaders," said Ashley Boren, Executive Director of Sustainable Conservation. "The award is a great way to celebrate those individuals and families whose sound natural resource stewardship keeps California's environment and economy vibrant."
Nominations are considered in two categories: Nurseries and Crops, and Livestock. Finalists will be selected in each category, with the Leopold Conservation Award winner being announced on December 3rd at the California Farm Bureau Federation Annual Meeting in Pasadena.
The deadline for nominations is July 15, 2012. Application information is available at: http://www.leopoldconservationaward.org
The Leopold Conservation Award in California is sponsored by the S.D. Bechtel, Jr. Foundation, The Lynde and Harry Bradley Foundation, The Nature Conservancy and Farm Credit.
Aside from California, Sand County Foundation presents Leopold Conservation Awards in Colorado, Nebraska, South Dakota, Texas, Utah, Wisconsin and Wyoming.
ABOUT SAND COUNTY FOUNDATION
Sand County Foundation is a private, non-profit conservation organization dedicated to working with private landowners to improve habitat on their land. In the spirit of Aldo Leopold, author of A Sand County Almanac, the Foundation encourages the exercise of private responsibility in the pursuit of improved land health.
ABOUT SUSTAINABLE CONSERVATION
Sustainable Conservation believes protecting the environment can also be good for business. The organization's climate, air, water and wildlife initiatives promote practical solutions that produce tangible, lasting benefits for California. Founded in 1993, Sustainable Conservation's effectiveness lies in building strong partnerships with business, agriculture and government – and establishing models for environmental and economic sustainability that can be replicated across California and beyond.
ABOUT CALIFORNIA FARM BUREAU FEDERATION
The California Farm Bureau Federation is California's largest farm organization. It works to protect family farms and ranches on behalf of nearly 85,000 members throughout California, including farm families and those who support the farming way of life.