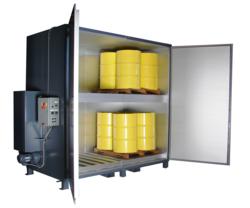 Sheffield Village, OH –
May 29, 2012 (PRWEB) June 12, 2012 -- Benko Products, Inc., a leading innovator in material handling and safety products, announces that its Sahara Hot Room Model E16 is a cost-effective replacement for inefficient band heaters and home-made hot rooms. The Sahara Hot Room Model E16 heats 16 drums or four totes on pallets, and is electrically heated with precise, digital temperature control and over-temperature control. The unit features an air circulation blower for temperature uniformity and fast heat-up of drums.
The Sahara drum heater can withstand any harsh industrial environment due to its unique design and robust construction. It features completely welded panels, has heavy-duty hinges and heavy gauge steel, making it ideal to survive forklift abuse and drum impact. Plant operation professionals that attempt to build their own hot rooms typically encounter various problems, including poor insulation, poor temperature control and poor airflow consistency. The units are often expensive to build, large and inefficient. These units also require workers to enter the room to access the materials. Plants may also use individual band heaters, but band heaters are material-handling intensive, burn-out frequently and need long heat-up times. The Sahara Hot Room Model E16 is an ideal replacement for these types of units in chemical plants around the world.
The Sahara Hot Room Model E16 features all steel construction with a temperature range to 350°F. The unit is shipped completely assembled. Options include a 6" vent with damper, interior door latch, an outdoor use package, chart recorder, door switch and adjustable timer.
For more information on the Sahara Hot Room Model E16, contact Benko Products, Inc. at (440) 934-2180 or go to http://www.benkoproducts.com.
About Benko Products, Inc.
Benko Products, Inc. is a privately held company based out of Sheffield Village, OH. Benko Products was founded in 1983 by pioneer John Benko, the inventor of the Sahara Hot Box® drum warming oven. Benko's leading product lines also include industrial batch ovens; G-RAFF safety platforms; mezzanine safety gates and chemical storage systems. Benko is also the parent company to GREEN Access & Fall Protection, a leading manufacturer of gangways for tank trucks and rail cars as well as self-leveling stair applications.