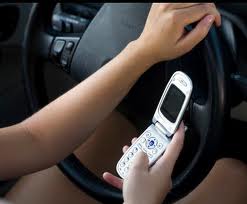 Providence, Rhode Island (PRWEB) June 10, 2012
The RI lawyers from the law offices of d'Oliveira & Associates, P.C. – as part of the nationwide celebration of National Safety Month – is seeking to help reduce accidents through increased awareness of safety hazards from slip-and-fall accidents and distracted drivers – especially drivers who text while driving.
Texting while driving is widely viewed as dangerous to not only the texting driver but also everyone else on the road. Distracted driving – such as texting while driving – was a factor in 3,092 automobile crashes in 2010 according to data from the National Highway Traffic Safety Administration. Text messaging has also been cited as creating a risk of crash 23 times greater than while not distracted.
Awareness of the dangers of texting while driving is important in light of statistics published by CTIA-The Wireless Association, a non-profit wireless agency advocacy group. CTIA reports an average of 191.3 billion text messages being sent every month, with an additional of 2.29 trillion minutes of mobile phone use each year.
In celebration of National Safety Month, the Rhode Island lawyers at d'Oliveira & Associates will be participating in the distracted driving campaign of the National Safety Council (NSC). According to Attorney Paul d'Oliveira, d'Oliveira & Associates will soon be running a television advertisement advertising the dangers of texting and driving.
The NSC, a nonprofit organization dedicated to researching and determining "optimal solutions to safety issues," celebrates National Safety Month this June. This year, the Rhode Island attorneys at d'Oliveira & Associates seek to promote this event my raising awareness of two of the NSC's key themes for this month, preventing slip-and-fall accidents and helping to reduce distracted driving accidents.
This focus on texting and driving is nothing new at d'Oliveira & Associates. The upcoming advertisement is part of a focus on increasing awareness of distracted driving accidents including seasonal accidents such as boating accidents and motorcycle accidents.
d'Oliveira & Associates: 390 Broadway Providence, RI 02909 - (401) 831-8600