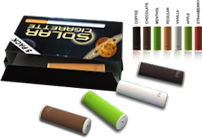 Get access to your own personal smoking buddy to help you stay committed and offer the VIP service you deserve while making the switch to a better lifestyle.
Hollywood, Florida (PRWEB) June 10, 2012
Smoking tobacco cigarettes is a difficult habit to break but now smokers and fathers who smoke can enjoy a life changing experience when they smoke the electronic cigarette from Solar Cigarette. Many clients of Solar Cigarette who have made the change from smoking real cigarettes to vaping are now realizing a life without being tied down to tobacco cigarettes.
"Solar Cigarette Starter Kit is a unique smokeless cigarette package that not only helps smokers with their nicotine cravings but the patent pending 2nd Generation electronic cigarette helps smokers lose weight all within the same puff when combined with the Solar Cigarette vitamin packs."
Read more at: http://www.SolarCigarette.com
A representative of SolarCigarette.com states that our vitamin B cartridge packs were a huge hit for Mothers day this year because not only did the smoker want a better way to smoke but their family members wanted them to quit as well. We predict that our vitamin packs will be just as successful for this Fathers Day as well. We thought that losing weight would be the top selling point for our clients but it seems that losing weight is a bonus compared to how badly smokers want to fight their nicotine cravings.
Find out more on the Solar Cigarette Smokeless Cigarettes.