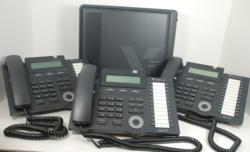 TelcoDepot.com provides businesses with phone systems and VoIP solutions that are ideal for their industry and optimized to provide cost savings
Bay Shore, NY (PRWEB) June 11, 2012
Insurance companies will now be able to make bulk purchases of critical phone systems and VoIP equipment from TelcoDepot.com at discounted rates, saving significantly in the process. Other benefits of the offer include special technical support and a host of related incentives.TelcoDepot.com is a provider of business phone system equipment and services covering VoIP phones, VoIP service, hosted PBX service, PBX phone system equipment, telephone system accessories and more, including VoIP phone system support. Shop for leading phone system equipment from brands like Aastra, Allworx, Grandstream, NEC phone system products, TalkSwitch, Xblue and Yealink at affordable prices with great support options.
Insurance companies process a large volume of phone-based internal and external communications daily for all their activities including claims processing, claims checking, financial transactions, legal communications, and so on. Without a reliable and efficient phone system network to run their daily activities, their business would suffer significant setbacks and losses.
Downtime, even for an hour, is not acceptable in the insurance business because lots of potential customers would be lost, and a great deal of work would not get done, leading to backlogs which overload available human resources and impact business outcomes negatively.
It is therefore essential that insurance businesses invest in a reliable, versatile and scalable phone system network consisting of quality phone systems and VoIP equipment held together by a powerful VoIP solution. Such a network should be capable of handling the anticipated high volume of incoming voice and data traffic, as well as accommodate foreseeable expansion with the least additional cost. TelcoDepot.com has the experience and expertise to provide businesses with such solutions, and the bulk-purchase discounts present an opportunity for insurance companies.
With the TelcoDepot.com offer of discount on bulk phone system purchases, insurance companies now have the opportunity of saving costs immensely while accessing quality VoIP phone systems and business/office communications solutions that are optimized to improve the efficiency, productivity of their work.
"TelcoDepot.com provides businesses with phone systems and VoIP solutions that are ideal for their industry and optimized to provide cost savings, increased performance and productivity, and a least-cost route to growth and significant ROI in the short term," says Yaron Ram, a TelcoDepot.com principal.
To learn more about the TelcoDepot.com special offering for insurance companies, including details on availability, pricing, discounts, systems and more, please call TelcoDepot.com support lines on 1-800-390-1200 or send an email to info(at)telcodepot(dot)com.
About Telco Depot
Telco Depot is a leading supplier of quality business telephone systems, business VoIP service, VoIP phones, phone headset equipment, video surveillance systems, voice & data cabling solutions, conference phone solutions and Microsoft Response Point Systems. The company's top priority is to help its clients make informed decisions based on their specific small business phone system needs by providing experience and expertise and guiding them in selecting the best phone systems for their businesses. Telco Depot ensures that their phone systems are fully scalable, affordable priced, and provide the highest value for their clients.