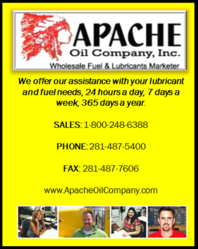 Apache will continually work to leverage that reputation with its own technical capability, local market knowledge in-stock inventory levels, and great customer service. We believe this is the beginning of a long and prosperous relationship with Houghton
Pasadena, TX (PRWEB) June 11, 2012
Apache Oil Company, a locally owned and operated fuel and lubricants distribution company, has partnered with Houghton International, a world leader in high-tech metalworking, hydraulic fluids, and fluid management services. Shortly after Houghton's acquisition of the Metalworking Fluids Division of Shell Oil Co. in 2011, Apache Oil began distributing Houghton's premier line of environmentally friendly metalworking fluids to its customers.
A short list of the most popular Houghton products that Apache Oil Company offers to customers includes:

Cosmolubric B-230 — Vegetable oil-based fire-resistant hydraulic fluid that is USDA Certified as a Biobased product composed of renewable materials. It is formulated with additives to enhance corrosion protection, metal passivation and oxidative inhibition.
Hocut 795-H — Heavy-duty chlorine-free machining and grinding fluid that can be used with many machines and metals. It is compatible with hard water, biostable, and provides corrosion protection without staining.
Hocut 801 — Versatile, semi-synthetic coolant for machining and grinding of ferrous and non-ferrous metals. It is clean running and biostable, ensuring a long, odor-free sump life.
Other available Houghton technology products include Adrana D 408, Dromus B and Metalina B 3650 water miscible metalworking fluids; Callina Fluid 1210 cleaner; and Voluta C 400 neat quenching oil.
"Apache Oil's thorough coverage of the fourth largest city in the U.S., as well as its location in the heart of the energy corridor is beneficial to both us and Houghton," said Kenny Isbell, President of Apache Oil Co. "Apache values the association with Houghton, a company known for quality products that meet customer needs. Apache will continually work to leverage that reputation with its own technical capability, local market knowledge in-stock inventory levels, and great customer service. We believe this is the beginning of a long and prosperous relationship with Houghton".
Apache Oil Co. has been a fuel and lubricants distributor in the Houston area for over 40 years, in partnership with great suppliers like Shell, Phillips 66, and now Houghton. Throughout its history it has formed a reputation for customer service and steadily growing its customer base. By adding Houghton's metalworking fluids to its offerings, Apache Oil Co. continues its mission to provide high-quality products and services to its customers. For more information, please visit http://ApacheOilCompany.com
About Houghton International Inc.
Since 1865, Houghton International Inc. has been serving the metalworking, automotive, and steel industries, along with a variety of other markets including the offshore oil exploration and production industry, with the development and production of specialty chemicals, oils and lubricants. Headquartered in Valley Forge, PA., Houghton maintains manufacturing and research facilities throughout the world. Houghton International continues its focus to expand its customer service operations and grow its worldwide facilities. Visit http://www.houghtonintl.com and http://www.twitter.com/houghtonintl.