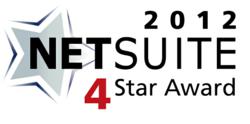 We have a great team ... committed to the success and profitability of our clients
Irvine, CA (PRWEB) June 18, 2012
Sererra Consulting Group, LLC., a world-leader in business process and technology management, offering a broad portfolio of the best cloud-based ERP, CRM and eCommerce solutions to the mid-market, announced that it has been awarded the NetSuite 4 Star Partner award at the annual SuiteWorld 2012 conference recently held in San Francisco. NetSuite partners like Sererra are an important contributor to helping enterprises of all sizes realize the benefits of cloud computing, enabling them to increase productivity, reduce costs and streamline operations.
"We are excited and proud to be awarded the NetSuite 4 Star Partner award," said Vijay Saha, CEO of Sererra Consulting Group. "We have a great team of cloud technology experts committed to the success and profitability of our clients and well-versed in business process engineering, systems implementation, integration and custom software development. Our team worked very hard over the past year to exceed the expectations of our clients and this award is proof we were able to do just that."
"Having strong partners who understand the business needs of their clients and present NetSuite as the solution is essential to the continued, rapid growth of our company," said Craig West, NetSuite VP of Channel Sales. "We are pleased to present Sererra with the 4 Star Partner accolade."
Sererra has been a NetSuite Solution Provider since 2002 and member of the SuiteCloud Developer Network since 2009. Sererra has been successful in delivering NetSuite to its customer base by providing implementation and support services. Sererra is an example of a partner that leverages its vertical industry domain knowledge to extend the benefits NetSuite's cloud-based business management suite into key verticals such as eCommerce and wholesale/distribution.
Launched in 2002, the NetSuite Solution Provider Program is the industry's first cloud channel partner program and unites hundreds of channel partners and their cloud opportunities with industry-leading margins and incentives (NetSuite SP 100) to grow their businesses. Designed to help solution providers transform their business model to fully capitalize on the revenue growth opportunity of the NetSuite cloud, the NetSuite Solution Provider Program delivers them a full range of supportive services that begin during recruitment and range from business planning, sales, marketing and PS enablement, to training and education. For more information about the program, visit http://www.netsuite.com/portal/partners/solutionprogram/main.shtml.
About Sererra
Sererra is a leading Green IT technology and management consulting firm focusing on delivering turnkey business solutions for midmarket firms worldwide. A provider of SaaS based technology for ERP, CRM and eCommerce needs, Sererra's core areas of expertise emphasize business process engineering, systems implementation, integration and custom software development including cloud-based business processes for a wide range of industries. As a NetSuite, Salesforce.com INTACCT, SUGARCRM and SAP Business ByDesign provider and integrator serving the mid-market with hundreds of implementations, Sererra provides clients with a complete unified integrated solution that enables business to grow more profitably.