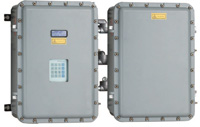 Houston, TX (PRWEB) June 12, 2012
SpectraSensors will be represented by BACS at the Neftegaz 2012 International Exhibition in Moscow, Russia on June 25 – 29. Neftegaz is Russia's leading oil and gas industry exhibition. It offers European, Asian and American manufacturers an opportunity to showcase their oil and gas production and processing equipment.
BACS will display SpectraSensors' Hydrocarbon Dewpoint, Moisture and H2S analyzers. Attendees can visit BACS' booth #82B60 to learn more about SpectraSensors' solutions for natural gas quality measurements.
More information: http://www.spectrasensors.com
Neftegaz 2012: http://www.neftegaz-expo.ru/en/
About SpectraSensors, Inc.
SpectraSensors is a leading manufacturer of optically based moisture analyzers and H2S analyzers for analytical process markets. SpectraSensors uses Tunable Diode Lasers Absorption Spectroscopy (TDLAS) in an array of products such as Ambient Air Monitoring Analyzers, Moisture Analyzers (Hygrometers) and Gas Analyzers for Natural Gas Pipelines and Processors, Petrochemical Refineries and Chemical Companies.
SpectraSensors Gas Analyzers measure: Moisture (H2O), Carbon Dioxide (CO2), Hydrogen Sulfide (H2S), Ammonia (NH3), Acetylene (C2H2), Oxygen (O2), Hydrocarbon Dewpoint and more.
###