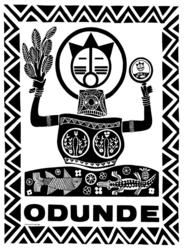 Philadelphia, PA (PRWEB) June 08, 2012
The organizers of the ODUNDE African and African-American Festival, an annual cultural event whose programs reach audiences of more than 500,000 persons, recently hosted a panel presentation for His Excellency Mauro Vieira, the Brazilian ambassador to the United States, who discussed investment, business and tourism opportunities for the 2014 FIFA World Cup and the 2016 Summer Olympics, both of which are scheduled to be held in Brazil.
This year's festival, Odunde's 37th annual, will focus on the culture and economy of Brazil, the world's fifth largest country and the home of one of the globe's fastest-growing economies. With approximately 190 million inhabitants, Brazil has the largest population of people who are of African descent, outside of the African continent, and is second to Nigeria. According to the 2010 census done by the country's Instituto Brasileiro de Geografia e Estatistica (IBGE) (http://www.igbe.gov.br), persons of African descent are currently in the majority, for the first time in the nation's history, constituting 50.7 percent of total population. Of this population, an estimated 500,000 people still practice a form of the Yoruba religion, which originated in West Africa. Brazil has export relationships with approximately 400 U.S. firms, including several located in the Greater Philadelphia area.
Over the past year, Odunde's organizers have been meeting with representatives from the City of Philadelphia and the Mayor's Commission on African and Caribbean Immigrant Affairs, the City's Convention and Visitor's Bureau, Select Greater Philadelphia and the Brazilian government, to produce a rare week-long cultural and economic exposure to Brazil.
ODUNDE Origin
ODUNDE has gained a national reputation as one of Philadelphia's brightest cultural jewels. The word ODUNDE originates with the Yoruba people of Nigeria, West Africa, and means "Happy New Year."
# # #