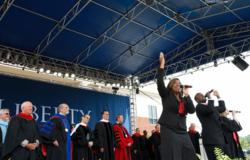 Lynchburg, VA (PRWEB) June 09, 2012
The Sounds of Liberty, Liberty University's premier touring ministry team, will have another chance to share the stage with Republican presidential candidate Mitt Romney when they perform for the Faith and Freedom Coalition Conference June 14-16 in Washington, D.C. The group was invited to the conference after performing at pre-debate party for the GOP presidential debate in Orlando, Fla., in September 2011.
Recently, the Sounds of Liberty shared the stage with Romney at Liberty University's 2012 Commencement ceremony on May 12.
"Having the opportunity to perform and minister on such high-profile platforms has given great exposure to Liberty University and has offered many 'once-in-a-lifetime experiences' for our students," said Scott Bullman, director of Ministry Teams. "I have the privilege of working with some of the most gifted students you'll ever find ... and this year has been no exception."
Bronwyn Baker, a 2012 graduate and Sounds of Liberty member for two years, said she "never imagined" she would be on the team ministering in large churches and at events in the nation's capital.
"Had I planned my future two years ago, I can't say that I would have hoped for all of this," she said. "It is just so true that the Lord orders our steps with greater plans than we can imagine when we surrender our hopes and dreams to Him."
After Liberty's Commencement, the group, which consists of six vocalists as well as a full band, traveled to New York City and performed at the Brooklyn Tabernacle Church, pastored by world-renowned author and speaker Jim Cymbala.
After its Washington, D.C., performance, where the team will be performing 20 songs over four sessions, including the national anthem and "God Bless America," the team will immediately head to New Orleans, La., to perform at the annual Southern Baptist Convention Pastor's Conference June 17-18. Then they cap off the month with a trip to Prestonwood Baptist Church in Plano, Texas, pastored by Dr. Jack Graham, former national president of the Southern Baptist Convention and a former member of the Liberty University Board of Trustees.
The group will welcome seven new members in the fall: Charlton Combs (sound engineer), Raleigh De Los Reyes (vocals), Aimee Hammerly (vocals), Christian Hodge (bass), Forrest Knight (keys), Mark LaMontagne (drums) and Stephanie Sanchez (vocals).
Sounds of Liberty performs more than 100 concerts each year and serves as the premier ministry team for Liberty University. They are one of nine teams that travel across the country every year through the Department of Ministry Teams.
Liberty University, located in Lynchburg, Va., is the world's largest Christian university. Nearly 100,000 students attend classes on its 6,800-acre residential campus and study in its thriving online education program.