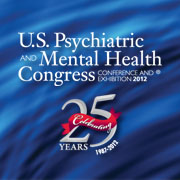 Millstone Township, NJ (PRWEB) June 14, 2012
An active-duty military discount rate is now available for the 25th Annual U.S. Psychiatric and Mental Health Congress, to be held November 8–11, 2012, at the San Diego Convention Center in San Diego, CA. CME LLC, the CME-sponsor for 2012 Psych Congress, and co-host HMP Communications, LLC, today announced a flat registration rate of $499 for all U.S. National Guard and U.S. active-duty military personnel.
Military clinicians are tasked with a dual role — serving their country and their patients. 2012 Psych Congress provides a platform for active-duty military personnel to increase their abilities to serve the mental health needs of their fellow service men and women, veterans and their families. Additionally, 2012 Psych Congress offers many opportunities to engage face-to-face with faculty, publishers, product representatives, recruiters, and colleagues.
2012 Psych Congress is the nation's largest independent educational conference for psychiatrists, primary care physicians, physician assistants, psychiatric nurses, psychologists, and other healthcare professionals, providing the best in clinical education. 2012 Psych Congress presents attendees with the resources needed to get the best from their practices for their patents.
The military service registration rate is limited to those serving active duty in one of the U.S. armed forces. A military ID will be required for registration and at check-in. Active-duty military receive full-conference access for only $499, from now until registration closes on-site — a $600 savings!
Call (800) 237-7285, ext. 233, to register with the active military rate or to request a brochure.
For full conference details, visit http://www.psychcongress.com.