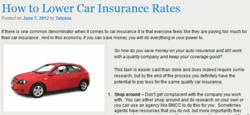 "It's fun to research and write articles that help people. Tatyana
Los Angeles, CA (PRWEB) June 20, 2012
Multi-line insurance agency, BMCC Insurance, has added two new consumer-friendly posts to its blog. They are titled "How to Lower Car Insurance Rates" and "How do Insurance Companies Make Money."
The former article is of course geared to saving consumers money and offers layman's definitions for liability, collision and comprehensive, which helps people make informed decisions about changes to those types of coverage.
The second article gives readers a general idea how insurance companies price their products to keep them competitive yet still be able to make a profit.
The blog is hosted on BMCCInsurance.com.
BMCC Insurance now represents over twenty A-rated insurance companies to help their broad customer base which predominantly covers the western United States.
BMCC Insurance is now licensed in all 50 states and poised for growth. The company has hired personal and commercial insurance agents, customer service representatives and other support staff to not only handle the current level of business, but to be ready for the anticipated growth, in order to provide the best customer experience possible.
BMCC is a multi-line insurance agency servicing the both consumer and commercial sectors. Areas of specialty include auto, homeowner's, life and commercial lines. BMCC Insurance is located in Encino, California.