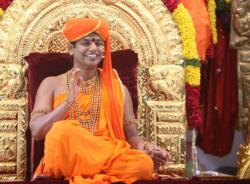 I have faith in the Divine and in the law and in the people of Karnataka. We cannot fight lawlessness with lawlessness.
Los Angeles, CA (PRWEB) June 11, 2012
According to the Life Bliss Foundation, from time immemorial, throughout the history of human society, almost all the Enlightened Masters have faced danger and opposition for speaking higher Truths and inspiring masses to realize their True Self, the True potential of the Soul. Also consistently it is always realized in each of their history, sometimes after they leave their body, that truly, an enlightened Master's true nature is pure love and compassion for humanity.
On June 9th, in his message to his world wide followers, one of the most watched Spiritual Guru on YouTube, Paramahamsa Nithyananda states, "I just have one message for both my devotees and for the anti-social elements who are doing this violence to us:
Nobody can stop us from doing the good spiritual and social work that we are doing. All our charitable work will continue. Annadaanam will continue in all my ashrams wherever it is possible by law.
I have faith in the Divine, and in the law, and in the people of Karnataka. I know for sure that the Karnataka people are not opposing me. We cannot fight lawlessness with lawlessness. We will conquer lawlessness with law. Ultimately we will get justice. Be blissful!"
ABOUT HIS HOLINESS PARAMAHAMSA NITHYANANDA:
Paramahamsa Nithyananda is not only one of the most watched Spiritual Guru on YouTube, he is ranked as one of the world's 100 most spiritually influential personalities. He has recently inherited the world's oldest and most ancient Hindu Spiritual Organization – the Madurai Aadheenam, by being coronated as the 293rd pontiff of Madurai Aadheenam.
Paramahamsa Nithyananda is a global leader in yoga, meditation, kundalini awakening enlightenment science. Clear, dynamic and modern in approach, Nithyananda's teachings have already transformed 15 million followers in 150 countries with the fastest growing spiritual community around the youngest incarnation.
Paramahamsa Nithyananda is a compelling spiritual force of our millennium. His Holiness is committed to bringing about a true inner awakening for all beings on our planet. A spiritual genius and a powerful spiritual healer, Paramahamsa Nithyananda has helped thousands of people to fight back from diseases ranging from depression to cancer often with one initiation.
Paramahamsa Nithyananda remains always grateful to the spiritual masters and the rich spiritual heritage of India which made it possible for him to learn and practice these timeless spiritual truths. Wishing to share his spiritual understanding with others and dedicate his life to the service of humanity, he entered into the public life and set up his spiritual organization, to reveal to the world, the science and benefits of our ancient mystical yogic tradition and disciplines.
In a few short years, since his advent, Nithyananda has already won recognition as the pioneer of a powerful Vedic renaissance. He brings to his discourses a wealth of personal experience. Demystifying spirituality with science, Paramahamsa Nithyananda has an agenda to make enlightened living a practical reality for every person in every home. His live talks on Bhagavad Gita, Shiva Sutras, Patanjail Yoga Sutras, Brahma Sutras and other powerful scriptures have touched audiences of millions, both within the country and abroad.
Paramahamsa Nithyananda has made an indelible mark on the international spiritual scene, attracting educated and committed followers with his engaging way of demystifying the Vedic truths and re-interpreting them in the light of modern living. His down to earth approach to spirituality and his image of a tech-friendly guru, who illustrates the truths of Vedanta using a laptop, and uses modern analogies to instill Vedic values has found him admirers amongst the educated youngsters and their parents alike.
Paramahamsa Nithyananda is highly committed to empowering women educationally, economically, emotionally and spiritually, restoring to them the dignity and social status they rightly deserve.
An inspiring personality for millions of people worldwide, and a lucid orator, Nithyananda continues to reveal to the world the deeper dimension of yoga and meditation drawn from the ancient mystic disciplines of the East. His mission is to create a new cycle of individual consciousness on planet earth, enabling the collective human consciousness to take the quantum leap into super consciousness.
Nithyananda Mission is a world wide movement that helps people discover the simple secrets of conflict-free, productive and blissful living.