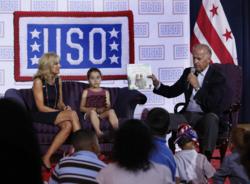 "I have had the tremendous honor of meeting so many military families – and I am always inspired by their strength and resilience..."
- Dr. Jill Biden
Arlington, VA. (PRWEB) June 09, 2012
Today, the DC Armory, which is suited to host events and shows of up to 10,000 people, brought together a small band of military children for a reading of Dr. Biden's new children's book "Don't Forget, God Bless Our Troops." Hosted by USO of Metropolitan Washington, the book reading also included arts & crafts stations, snacks and family-friendly takeaways for Dr. Biden's young audience.
Details:

Children of the DC National Guard members gathered around Dr. Biden as she read from her new book "Don't Forget, God Bless Our Troops."
"Don't Forget, God Bless Our Troops" is a personal account of Dr. Biden's granddaughter Natalie's experience coping with her dad, Beau Biden's, yearlong deployment to Iraq. In addition to offering ways for other military children to get through lengthy deployments and to remain connected, the book also offers resources for Americans who want to get involved and show their support for military families.
Publishers Simon & Schuster will make a contribution to the USO to support military children in honor of the books publication.
Quotes:
Attributed to Second Lady Dr. Jill Biden:
"I have had the tremendous honor of meeting so many military families – and I am always inspired by their strength and resilience. Not all Americans are familiar with the military family experience, so as a military mom and grandmother, it's very important to me to raise awareness among all Americans about what they can do to recognize and support our military families who sacrifice so much for us."
Attributed to USO President and CEO Sloan Gibson:
"More than two million children have a parent who served overseas since 2001, and that number includes Dr. Biden's own grandchildren. She knows firsthand how hard separation during a military deployment is on a family. We're proud to work to steward this wonderful gift from Dr. Biden to the children of troops who deserve our help."
Attributed to USO of Metropolitan President Elaine Rogers:
"At USO of Metropolitan Washington we serve more than 500,000 military members and their families in the Washington-Baltimore region, so we see firsthand the impact deployments have on our military children. We're so thankful to Dr. Biden for her commitment to educating our military kids and her dedication to increasing awareness of the many issues they face."
For more information about the USO, visit uso.org.
Multimedia:
USO Photos: http://bit.ly/MknXIa
USO Fact Sheet: http://bit.ly/yaebvo
USO Logo: http://bit.ly/JX1ghs
Other Web Sites:
http://www.uso.org
# # #
About the USO
The USO (United Service Organizations) lifts the spirits of America's troops and their families millions of times each year at hundreds of places worldwide. We provide a touch of home through centers at airports and military bases in the U.S. and abroad, top quality entertainment and innovative programs and services. We also provide critical support to those who need us most, including forward-deployed troops, military families, wounded warriors and their families and the families of the fallen.
The USO is a private, nonprofit organization, not a government agency. We rely on the generosity of our volunteers and donors. In addition to individual donors and corporate sponsors, the USO is supported by President's Circle Partners: American Airlines, AT&T, Clear Channel, The Coca-Cola Company, Kangaroo Express, Kroger, Lowe's, Northrop Grumman Corporation, Procter & Gamble, and TriWest Healthcare Alliance and Worldwide Strategic Partners: BAE Systems, The Boeing Company, Lockheed Martin, and Microsoft Corporation. We are also supported through the United Way and Combined Federal Campaign (CFC-11381). To join us in this patriotic mission, and to learn more about the USO, please visit uso.org.
About USO of Metropolitan Washington
USO-Metro is a nonprofit 501(c)(3) organization chartered by Congress, and dedicated to "Serving those who serve, and their families" in Washington D.C., Maryland and Northern Virginia. It is through the generous financial support of individuals and organizations in the local community that USO-Metro is able to fulfill its mission. With the help of nearly 5,000 devoted volunteers, USO-Metro provides programs and services for active duty troops and their families at area military hospitals; through its Mobile USO program; at five USO Centers, four USO airport lounges and through Operation USO Care Package. For more information please visit http://www.usometro.org or "like" us on Facebook and follow us on Twitter by searching USO-Metro.