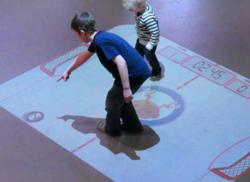 PO-MOtion was the perfect solution for our Crazy About Rugby campaign - Ian Rowe, Air New Zealand
Winnipeg, CANADA (PRWEB) June 11, 2012
Although it has only been a month since the launch of PO-MOtion, interactive floors and walls created using the patent pending software have already appeared in over 16 countries worldwide, including retail stores in South Africa, tradeshow booths in Europe, and even in the Tokyo based front lobby of a major search engine.
"The premise is simple," says Meghan Athavale, co-founder and CEO of PO-MO Inc. "PO-MOtion allows audiences to interact with a message in novel and unexpected ways. Touchscreens are great for single users, but interactive projections offer an experience that is enjoyed by many people at once. PO-MOtion has made it really easy for advertisers to create and manage that experience."
Growing profits continue to propel the tiny, 5 person startup, which is now working towards the next release in the fall of 2012. Over the next six months, PO-MO expects to introduce advanced content management tools for resellers and distributors. Athavale says these tools will allow commercial clients to remotely manage multiple displays and measure user engagement levels, so interactive content can be maintained in near-real time.
To learn more, visit: http://www.po-motion.com
About PO-MO Inc.
Founded in June 2010, PO-MO Inc. was started by artist and animator Meghan Athavale and programmer Curtis Wachs, whose shared vision of integrating the real and virtual world led them to design many customized interactive projection applications. Over the past two years, PO-MO Inc. has grown from 2 to 5 people and has created over 50 interactive installations for companies around the world.