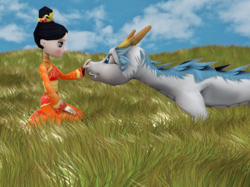 Sterling, VA (PRWEB) June 10, 2012
Sripada Marketing LLC released this past week their first entry into iPhone / iPad games with a fun, adventure, and action oriented Chinese Dragon game. This year being the Year of Dragon for the Chinese, the plot of the story and theme seem to be getting positive attention and reviews from the players who downloaded it so far.
Did you know good Chinese Dragons do not have wings and still fly? Drukey, the pet Dragon of Princess Pearl is loved by all and has fluffy body and takes the Princess on rides high above the ground. When the Princess was taken hostage by Prince Devious IV to forcefully marry her and become the king of Planet Fortune, the pet dragon is very angry and wants to rescue her right away.
Drukey, the Chinese Dragon is looking for warriors and guards who can help navigate her in these far away planets. The game has very simple game play yet with the 3d graphics and amazing planet environments (desert, ocean, green forest, and an erupting volcano planet) and the number of enemy dragon attacking and trying to get players to stay away from the Princess, the game is very challenging and players will certainly feel like they have had good action and adventure by the end of the game.
"With exhilarating music that gives the game a great setting for people to play, this game is so much fun," says a player who has now achieved the status of "Brave Guardian of Planet Fortune". "Let's save the Princess," says Zander, another proud exclusive Guardian of Planet Fortune. Even Grandpa Davis was excited about the game getting it for their grandsons.
This 3d Chinese dragon game is the first from Sripada Marketing. It features several fun and challenging missions as the players serve as Exclusive Guard of the Princess and explore planets with Drukey to collect Artifacts & Powers and gems on the way to save Princess Pearl.
The application is available for purchase in the iTunes App store right now and expected to be on Android stores soon. Chinese Dragon Game, the Drukey the Dragon is available to download now.
Sripada Marketing is reaching out to phone game reviewers and any specialist app game review website owners for comments and also to create reviews of this game on their website.
About the Company:
Sripada Marketing is an online leader in providing affordable marketing solutions. As an established strategy provider for inbound marketing strategies, website design, web development, mobile applications for local businesses, traffic and lead generation, Sripada Marketing continues to provide local, small business with affordable and effective results.
Contact:
Venu Sripada | CEO | Sripada Marketing, LLC
Phone: 703-651-2918
Email: venu(at)sripadamarketing(dot)com