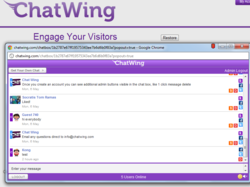 Cambridge, MA (PRWEB) June 10, 2012
The advent of Myspace online shops may have diminished, but many people are still relying on them to find unique and important products. This still-growing need is based on the collective reviews of different users all over the Internet. Setting up an online shop in Myspace today is still considered a wise move because of many ways a person can engage in marketing online. Myspace users can rely on a newly-launched web chat tool known as Chatwing. In terms of online presence, Chatwing has already helped a lot of bloggers, web surfers, and information gatherers.
The Chatwing shoutbox banks on its simplicity and ease of access. This is due to the fact that people tend to prefer simple applications over complicated ones. Anyone can use Chatwing easily, saving a lot of time. Since it is a widget, it can also be installed to different blogs and websites that allow custom design. Bloggers who have used the Chatwing shout box have noticed great spikes in the visibility of their blogs. Chatwing does this by transforming a blog into a chat lounge that can attract a lot of visitors. Combined with informational posts, the high rate of a blog's visibility is achievable.
Online entrepreneurs have also benefited a lot from Chatwing. With the chat tool installed, visitors had a stream of communication wherein they can send their questions in real time. This is useful in building up a client base. Also, Chatwing's latest version also allows social media integration. Now, users can log in with their Facebook and Twitter accounts, expanding their social networks. The chat widget can also accommodate up to 600 chatters in real time.
To keep users well-informed, the Chatwing chatrooms team maintains a Facebook page filled with useful content. In the Chatwing website, there is also an embedded shout box so that users can try out chatting.
About Chatwing.com
Chatwing.com has developed live chatbox for websites and blogs. It caters to different online communities due to its high rate of connectivity. Everyone can create a customizable live chat box feature in 1 minute or less. Users have the ability to customize the size, color, and fonts of the chat product. The ability to chat via social media accounts such as Facebook and Twitter enable Chatwing to offer a personal and unique real-time experience to all sites. Chatwing is 100% free and very easy to use.