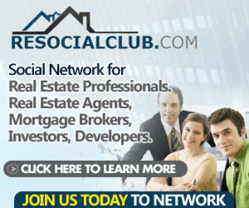 The best real estate social network on the net.
Los Angeles CA (PRWEB) June 12, 2012
The famous social networking website RESocialClub.com, which has been exclusively conceptualized and designed for real estate professionals, now announces free classified advertisement opportunities for real estate agents, developers, and investors. The site is turning better day by day by including new and well-thought of sections that can be used by real estate professionals to prosper their business. With its new classified section, the site is expected to become an exclusive advertising platform for worldwide real estate professionals. Any real estate company or professional can now post their classified ads for free and quick response is always guaranteed, as RESocialClub.com is a popular networking hub for worldwide real estate professionals.
Many real estate developers and professionals have welcomed this new feature addition by RESocialClub.com. They won't have to go to other classified sites to post their ads and wait for the response. When they have every facility at one place, they need not to go to other sites. Moreover, this is the site meant exclusively for the people associated with the real estate industry. Hence, any advertiser can be assured of getting a quick response to his or her advertisement posted on the site.
According to the creators of the site, the focus is always on to give advantages to the real estate companies and the real estate professionals, and everyone else who has been associated with this industry. This is the reason, the creators of the site keep on adding new features, enabling the site to draw good attention from the people who are the part of the real estate industry.
About RESocialClub.com
RESocialClub.com is the first social media platform, designed exclusively for real estate professionals. A registered real estate member can host their profile and start networking with other members and agents via online chat. Members can view each other's profiles and update them. They can utilize the blog and forum features to post their queries which are then answered by experienced real estate professionals. Now, they have added a Free Classified section too. This helps in increasing communication and knowledge between all members. The website is maintained by experienced web developers who ensure constant improvement in features for the benefit of members from the real estate industry. Now, the website can also used to advertise for properties by posting free classified ads.
For more details, you may log on to http://www.resocialclub.com/.