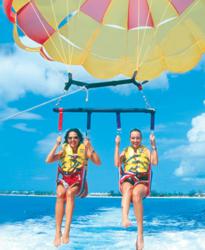 everyone has the chance to catch a record, but they will all definitly come home with a story to tell
Orange Beach, Alabama (PRWEB) June 12, 2012
Outcast Marina, located next to Caribe Resort in Orange Beach, is providing new fun for people visiting on vacation. Outcast has dolphin cruises, boat rentals, jetski rentals and even parasailing. They also offer fishing boat charters and guided bay water excursions. In short, they have something for all the water enthusiast.
Since they are located at the Perdido Bay inlet, they provide fast service to the gulf or fishing reefs, an extremely important detail when you are paying by the hour. Their boat and jetski equipment is new and just the right size for family outings. Probably the best part about their location is that they are the closest marina to the popular hangout spot of Robinson's Island.
Outcast was built to furnish their water fun to the guests of Caribe Resort, but they also cater to other vacationers and local residents. They share the Alabama Point peninsula with Cobalt Restaurant so if you want to sit on the deck and watch the fun, or relax after an exhilarating ride they have a great setting. A good idea is to get your to-go order from Cobalt then load up on a pontoon boat and enjoy the meal on a quiet little island.
Whichever thrill ride you choose this is certainly a great place to begin your adventure. The recent opening of snapper season and other fishing time slots has allowed Outcast to supply memorable charters to those seeking the big one. As one Captain stated " everyone has the chance to catch a record, but they will all definitly come home with a story to tell". Just in case you don't catch Moby Dick, you can always view the majestic dolphin on the cruise back to the docks.
Outcast Charters is located at 29101 Perdido Beach Blbd. next to Caribe Resort in Orange Beach, Alabama. Known for their inclusive family fun resort, Caribe features over 40,000 square feet of pools, slides and a Lazy River. There is the 5 star restaurant Cobalt on the grounds and of course their famous luxury condominiums. You can contact Outcast Charters by calling 888-844-6481 or by visiting the website http://www.outcastcharterdocks.com .