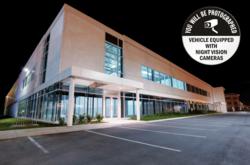 "The video surveillance labels encourage proactivity in protecting motor vehicles," Cole Paulson, Manager of MySecuritySign.com, said.
Brooklyn, New York (PRWEB) June 11, 2012
MySecuritySign.com, a leading web retailer for security and surveillance signs, has updated a Parking Lot Security Signs collection to include new video surveillance labels. The labels are black and white to correspond with night vision surveillance cameras, serving as aids to preventing vehicle thefts.
Having a vehicle stolen is a devastating problem. According to the FBI's website, there were approximately 794,616 thefts of motor vehicles in 2009. In the same year, nearly $5.2 billion dollars were lost to motor vehicle thefts, and more than 72 percent of all motor vehicles stolen were automobiles. An automobile is an expensive, valuable investment, and therefore an effective security system is essential to preventing thefts.
MySecuritySign included the new video surveillance labels in the Parking Lot Security Signs selection. The black and white labels display warnings that vehicles are equipped with night vision cameras, so violators and criminals will be photographed. Black and white ink is a perfect offset for labels designed for nighttime parking. The decals are crucial for communicating security measures non-verbally and curbing suspicious activity that may take place in vehicles.
The labels are made from resilient materials proven to last for years. A clear polyester laminate protects the print against water, chemicals, and weather. The laminate is made of 4 mil thick vinyl with a clear plastic cover that provides superior tear-proof strength. It is UV-resistant, weatherproof, and protects the label from moisture, solvents, chemicals, abrasion, and fading. Additionally, it is easy to wipe dirt, dust, or grease off the laminate.
The new video surveillance labels are part of an expansive collection of parking lot security signs. The signs carry bold messages such as "Parking Areas Monitored With Cameras" printed with bright 3M ink and are comprised of durable aluminum. Custom templates are available for personal parking messages. "The video surveillance labels encourage proactivity in protecting motor vehicles," Cole Paulson, Manager of MySecuritySign.com, said. "The new labels are a favorite because they are portable, attention-grabbing, and blend in with the night."
For more information, visit http://www.mysecuritysign.com/mss/parking-security-signs.aspx
About MySecuritySign.com
MySecuritySign.com provides over 5,000 different security signs to protect any home or property. Whether for video surveillance, no trespassing, or customizable options, the signs will last for decades through weather and abrasion. Find direct-from-factory items 50% cheaper than any competitor.
About SmartSign
SmartSign is one of America's fastest growing e-commerce companies and parent of MySecuritySign.com, MyParkingSign.com, as well as more than 50 other sites. The company manufactures and distributes a wide range of signs, tags, mats, and labels. In the past, many consumers have found it hard to find, hard to design and hard to order signs with the right message. By positioning "signs as solutions," SmartSign has taken an entirely different approach. Through highly targeted, content-rich, and authoritative retail sites, the company provides specific solutions to specific problems, such as protecting vehicles. SmartSign is widely recognized for its quality construction; its signs come with a 3M® warranty and outlast fast-fading, ink-jet signs. Other SmartSign advantages include fast and free shipping, the Web's largest range of designs, and a best-price guarantee.