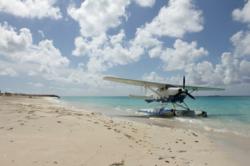 …a travel experience where your vacation begins when you board the aircraft and the journey is just as important as the destination...
Miami, FL (PRWEB) June 12, 2012
Tropic Ocean Airways, South Florida's seaplane airline, announced today it has begun regular service between the Miami Seaplane Base and North Bimini. The airline, which began regular service four days per week to the Bahamian island from Fort Lauderdale (FLL) in March, added the Miami Seaplane Base as a stop on its regular route. Flights will depart FLL and stop in Miami prior to the short yet scenic 30 minute flight to North Bimini. The seaplane landing on North Bimini saves additional time as passengers will not have to spend valuable vacation time traveling from the South Bimini airport via taxi and ferry.
"We've had so many requests to operate regularly from the residents of South Beach and Downtown Miami," said CEO Rob Ceravolo. "The Miami Seaplane Base is not only convenient for residents and visitors; it is part of the vibrant city's rich history. By offering this service on a per-seat basis, we open up the opportunity of a seaplane flight to everyone…a travel experience where your vacation begins when you board the aircraft and the journey is just as important as the destination."
Many of the airline's regular customers are Miami residents who keep boats at the legendary Bimini Big Game Club or own homes at the luxurious Bimini Bay. "Bimini is an exciting destination that isn't just for boaters and vacation homeowners," Rob adds. "It is a Caribbean wonderland that was loved by Ernest Hemingway. With water as clear as a swimming pool, you can fish for record marlin, paddleboard the flats, learn to kiteboard, swim with wild dolphins, feed sharks, dive shipwrecks or the famous Road to Atlantis, or just lay in a hammock with a cocktail. You can travel from your house to paradise in less time than it takes to drive from Miami to Fort Lauderdale!"
The flights are offered on Thursdays, Fridays, Sundays, and Mondays and fares are $180 one-way between the two markets. Discount fares are available when purchased as a package through the Bimini Big Game Club or Bimini Watersports. Additional discount fares will be offered in the near future for Bimini Bay homeowners. To purchase fares or request additional information please visit http://www.flytropic.com.
Founded by a U.S. Navy TOPGUN in 2009, Tropic Ocean Airways continues to differentiate itself from other airlines. The first to bring back seaplane service to Bimini since 2005, Tropic Ocean Airways, a carbon-neutral company, continues to outpace its competitors in the Bahamas and the Florida Keys by offering superior customer service, safety, and professionalism.