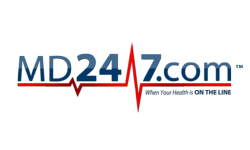 http://www.md247.com
Tampa Florida (PRWEB) June 11, 2012
The MD247 Marketing Team addressed nationwide media on June 11, 2012 to hint at the secret web release of a series of MD247 telemedicine program membership discount codes. The web release of the discount codes is intended to serve as a viral incentive for average folks, particularly parents searching for a supplemental health option, to find MD247 discussed online by bloggers.
The MD247 telemedicine discount codes will be associated with a number of potential discounts for online adventurers seeking the opportunity to test drive telemedicine at a discounted rate. Discount codes will cover everything from a free trial membership in the program which allows members to talk to a doctor at a discounted rate, to discounted supplemental healthcare for instances of travel within the United States. The discount codes will also be changing on a consistent basis, meaning it is in the best interest of ALL bargain hunters to visit http://www.md247.com as frequently as possible.
In addition to announcing the viral discount codes for supplemental telemedicine services, the MD247 Marketing Team also reminded Tampa Bay media that the MD247 website had recently undergone a massive relaunch. The new site was intended to truly educate the public regarding the positives associated with telemedicine, and place MD247 in the lead position for telemedicine service nationwide. The MD247 Marketing Team explained that additional changes will soon be launched as well, when MD247 implements materials directed at Spanish speaking Americans as MD247 continues to truly work to supplement healthcare for ALL.
Telemedicine connects doctor and patient at any time, on any day of the week, across the miles and from home or work and any other location. The doctor's office is really all of time and space.
Largo Florida based MD247.COM (MD247; MD/247; MD 247; M.D.247; MD-247) provides an affordable telemedicine supplement to existing healthcare services. MD247.COM telemedicine program members have unlimited telephone access to a nationwide medical support team, all with just a single phone call to the MD247.COM telemedicine Talk to a Doctor/Talk to a Nurse Hotline. MD247.COM has a virtual platoon of registered nurses; board certified physicians and a support staff available to members for all non-emergency situations. More information about MD247.COM is available online at http://www.md247.com.