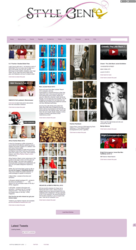 Style Genie does a fantastic job of customizing the Rosewood theme
Los Angeles, California (PRWEB) June 11, 2012
Online Tumblr theme specialty store The Layout Shop features a Tumblr blog by one of its best Tumblr theme customers every month in order to promote that user's blog and, at the same time, promote their own themes and showcase their design and functionality.
The website's Tumblog of the Month for June, Style Genie, is a fashion and style blog that features posts about new style collections, lookbooks, D.I.Y. fashion tips, runway trends, and everything else fashion related.
Style Genie uses The Layout Shop's Rosewood theme, which features customizable colors, headers, and backgrounds, and a floating grid layout that is reminiscent of Pinterest's grid layout look. This type of blog layout has become very popular recently, particularly among fashion blogs.
Rosewood continues to be a favorite among The Layout Shop users, says site manager Nicolas Camp. "We noticed that the theme has become quite popular with fashion bloggers. We're also receiving lots of positive feedback from customers" says Camp.
"The Tumblog of the Month feature lets us reach out to our users more and is a way for us to show some gratitude to them for picking our designs."
He says about June's Tumblog of the Month, "Style Genie does a fantastic job of customizing the Rosewood theme and showing off its more fancy features. Our Rosewood theme is the perfect fit for the blog's stylish content as it doesn't get in the way of posts."
The Rosewood theme is available through the website's gallery page for $10. Previews are also available in the Rosewood theme page.
About The Layout Shop
The Layout Shop is an online Tumblr theme store specializing in professionally made and customizable Premier and Free themes for Tumblr. The site also features a tech blog about blogging and social media.