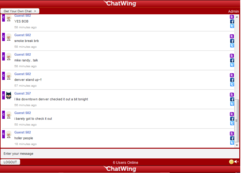 Chatwing offers a remarkable visibility boost for any blog or website.
Burlington, VT (PRWEB) June 14, 2012
Moonfruit, one of the best free blog and website creators, is continuously raking popularity in the Internet. This is because of Moonfruit's wide arsenal of blog and website templates. Most of these templates are free, but some can be bought for a certain affordable price tag. Lately, the Chatwing team introduces a potent chat box that can help Moonfruit users gain extra communication leverage. Chatwing appears as a simple chat tool but it is known for its rate of global connectivity.
Moonfruit users can take advantage of Chatwing's simplicity and ease of access. Installing the web chat tool for any blog or website takes only a few seconds. To install Chatwing, the user must register his blog or website's domain name. The next step is customization wherein he will be prompted to edit the appearance of the chat tool. The user can change the height, width, color, and title of the widget. In this way, he can sync the widget with the theme of his blog properly.
Chatwing also features social media integration without affecting the widget's overall speed. Through this option, people can now log in with their Facebook or Twitter accounts, allowing them to exchange profile information easily. This is useful for people who want to expand their social networks rapidly. The social media integration is also one of the reasons why the Chatwing shoutbox is continuously generating a lot of users in the blogosphere.
The current version of Chatwing can accommodate up to 600 users in real time. However, in the near future, Chatwing's developers are planning to upgrade the chat widget so that it can accommodate up to 1000 users. This upgrade will make Chatwing an effective professional solution for a lot of bloggers.
About Chatwing.com
Chatwing.com has developed live chat software for websites and blogs. It caters to different online communities due to its high rate of connectivity. Everyone can create a customizable live chat box feature in 1 minute or less. Users have the ability to customize the size, color, and fonts of the chat product. The ability to chat via social media accounts such as Facebook and Twitter enable Chatwing to offer a personal and unique real-time experience to all sites. Chatwing is 100% free and very easy to use.