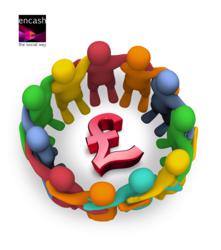 London, UK (PRWEB UK) 12 June 2012
encash is the first and only social web marketplace in the UK that is totally transparent. It has leveraged the benefits of friends and family financing to allow borrowers to spread their message and achieve excellent APRs. Borrowers get to interact with lenders to share their financial circumstances and this helps lenders to invest in the right people! The listing business model wherein all loans are listed on the website makes 'encash' a fully transparent platform.
what is friends and family financing?
Friends and family financing has always been possible informally. At 'encash' borrowers can get funded by friends, family, social media contacts and other 'encash' members formally via an 'encash' loan agreement. And with fixed monthly repayments managed by 'encash', borrowers pay back on time without letting emotions get in the way! At 'encash' it is believed that friends who owe money to each other always repay.
Why should friends and family be involved?
If political candidates can win elections through social media, borrowers can certainly raise funds for their businesses! Every borrower has social media followers or fans. These are people who like them already. What better way to raise money through people who already believe in the borrower. Getting recommendations from peers can improve representative APRs offered to them by other 'encash' members on their loan.
How can friends, family, and social networks become resourceful?
The fastest way to get funding is simply by reaching out to all the social connections! Borrowers can send emails and posts to their connections inviting them to invest in their loan listing. When they share their story, circumstances and reason for the loan, their fans will want to know how they could help!
How can the 'encash' community be used?
Borrowers can simply browse profiles and see what has worked for others in the past, compare information and pick-up tips along the way. 'encash' is different from any other peer-to-peer lending site; the community here is open and transparent with all members supporting each other! Borrowers can post their loan listing and request that their fans and followers post the message on their pages as well. The profiles with the highest traffic volume will be populated as one of the top members on the community section of the 'encash' site. And to get funded, this is where every borrower would want to be.
http://www.encash.uk.com
Contact details:
PR Contact: Nitasha Jain, Marketing Manager, ext. 402,
nitasha.jain(at)yes-secure(dot)com
Phone: +44 - 871 - 221 - 8410
Checknet House, 153 East Barnet Road, Barnet, EN4 8QZ
YES-secure.com Limited registered in UK, Registered number is 06785381
YES-secure has received credit licenses from the Office of Fair Trading (Registration Number 631278), and is registered with the Office of the Information Commissioner (Registration Number Z1960081).