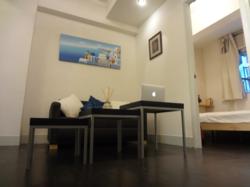 Central Hong Kong hotel rooms are the size of a shoebox and prices start at US$400. Why not rent a 2 bedroom Hong Kong apartment for US$35 per person per night?
(PRWEB) June 13, 2012
Hong Kong is the busiest and fastest growing city in Asia. With the economic expansion of China in the last decade, Western Expatriates and Mainland Chinese have flooded into the former British colony. As a result Hong Kong real estate prices have boomed, doubling between 2008-2012. This in turn has driven up the price of Hong Kong hotels and short term accommodation. With Hong Kong being one of the densest cities in the world, travellers pay high prices for extremely small room hotel rooms.
MyHKHome.com has expanded from offering serviced apartments to Hong Kong vacation rentals and holiday apartments. Being locally based, MyHKHome.com is able to forge strong on the ground relationships with local landlords and only select stylish and affordable apartments into their portfolio. All of the apartments are close to public transport making travel around the city easy.
A large part of the portfolio contains 2 bedroom apartments. Many come with free unlimited wireless internet, cable TV and a complimentary mini-bar. All apartments provide fresh bed linens and towels on check in and an optional daily maid service. A large of number of two bedroom apartments can comfortably fit up to seven travellers with prices starting at US$250 a night. Thus group travellers can travel to one of the most expensive cities in the world and stay for US$35 per night.
For a limited time only to celebrate the expansion into Hong Kong vacation rentals, MyHKHome.com is offering new customers a 5% special discount coupon valid till 31st Dec 2012. Visit http://www.myhkhome.com/special-discount/ to claim yours now.
About MyHKHome.com
MyHKHome.com was founded by an expatriate and a local resident of Hong Kong, both with a vision of providing quality affordable living in the metropolitan city. With their combined knowledge & skillsets, MyHKHome.com is able to source local apartments at affordable prices before adding Western touches to truly provide a quality living experience.
For more information visit: http://www.myhkhome.com/